CONSERVATORY of MUSIC
Lary Benson
PRIVATE LESSONS | VOICE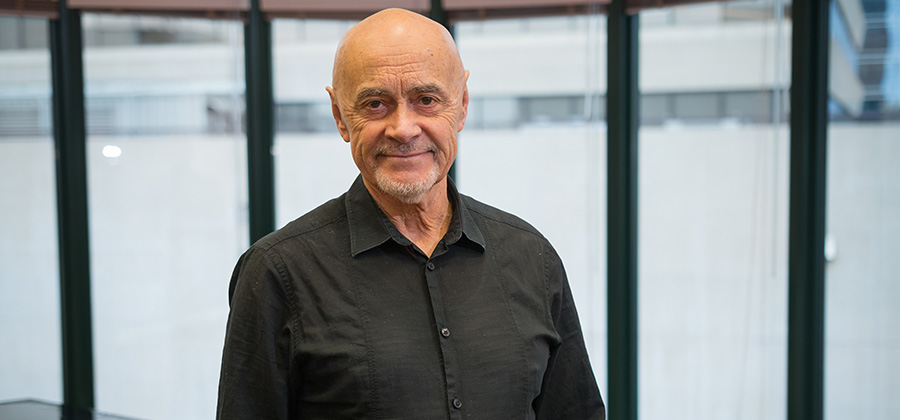 You can expect me to respect your personal goals, interests and abilities pertaining to the performance of vocal music. My goal is to help you find the joy and fulfillment in singing expressively with good intonation and tone regardless of the genre.
About
Edmonton tenor Lary Benson graduated from the University of Alberta with a Bachelor of Education Degree with a Music Major. Further studies in Singing, Dance, Acting and Opera were undertaken at Morley College, London England and at the Banff Centre.
Lary has had a lengthy career as an opera singer performing for most major opera companies in Canada including Edmonton, Calgary, Vancouver, Pacific Opera (Victoria), Manitoba Opera and the Canadian Opera Company (Toronto). Lary's career has also included many engagements as a tenor soloist in Oratorio and Musical Theatre, which led to several CBC broadcasts. He is a featured soloist and chorister on the 5-disc recording of 35 Sacred Concerti by Bortniansky, undertaken by North America's Ukrainian Millenium Choir.
Lary was employed as a vocal instructor for many years in MacEwan University's Theatre Arts Program with Program Heads Tim Ryan and Jim Guedo, and currently teaches at the Alberta College campus, Conservatory of Music in Edmonton. He has been a member of NATS since 1981 and is a lifetime member of Actors Equity Association, as well as ARMTA and AIMTAC.
In 2008 Lary received the Lifetime Achievement In the Arts Award at the Edmonton Mayor's Celebration of the Arts for his long and distinguished career in teaching and performing. Also, he was honored by the Alberta Music Education Foundation with the 2015 Music Education Recognition award.
Lary continues to perform concerts with the versatile group, Tenor Power, and also mentors many students who are active performers in Musical Theatre and the Vocal Arts.
During the past few years Lary has also adjudicated Festivals in various Alberta centers, Vancouver, Chilliwack and Ottawa.
Lesson
Lary teaches online or in-person at the Alberta College Campus during weekday afternoons and evenings. Private singing lessons are available for ages 9 to adult, from beginner to advanced levels which includes RCM levels 1 to 8.
Lessons are balanced between technical work and repertoire that is chosen to accommodate individual interests and developmental needs. He supports students with interpretation and expression in singing through focus, facial expression, body language, and vocal tone colours.
Students are encouraged to find excitement in performing a wide variety of styles and genres through weekly lessons and student recitals. Styles include arts songs, opera, musical theatre, folk, pop, country and jazz. 
Request lessons with Lary to discuss lesson availability and rates.
Education
Bachelor of Education with a Major in Music, University of Alberta
Dance instruction, acting instruction and vocal coaching under Andrew Downey at Morley College, London, England.
Singing instructors include David Galbraith, Domety Berezenetz, Jean Letourneau, David Astor, Leopold Simoneau, Seth Riggs
Four summer sessions at The Banff Centre in 1971, 1972, 1973, 1981 under Bernard Turgeon and Alexander Grey. Each session involved intense operatic performance training culminating in the performance of major roles in productions of Susannah, Deirdre, The Magic Flute and the Merry Wives of Windsor.
University of Alberta, Edmonton - Continued experience in operatic performance in productions including The Coronation of Poppea, A Midsummer Nights Dream, and The Magic Flute under Conductor Alfred Strombergs and Directors Rowland Holt-Wilson and Alan Ord.
Music and Language coaching from Alfred Strombergs, Marie Therese Paquin, Harold Brown, Albert Krywalt and William Shookhoff at The Banff Centre.
Performances / compositions / recordings
35 Sacred Concerti by Dmitri Bortniansky; featured as a tenor soloist, recorded in Guelph Ontario in 1985 and 1987.
Ukrainian Millennium Choir conducted by Wolodymir Kolesnyk.
LOUIS RIEL Opera by Harry Somers, Kennedy Centre, Washington DC (October 1975).
TALES OF HOFFMAN Opera by Offenbach, Vancouver Opera, Queen Elizabeth Theatre, Vancouver B.C (January 1984).
The Magic Flute with Alfred Strombergs, Allan Ord at the University of Alberta
Opera Performance:
Coronation of Poppea, Midsummernight's Dream
Four summer sessions in 1971, 1972, 1973 ,1981 at The Banff Centre under Bernard Turgeon, Alexander Grey. Vocal instructors: Leon Major and Seth Riggs.
Lary Benson is an incredible instructor. He helped me find freedom of expression with my voice. I highly recommend taking lessons with him!
Conservatory Voice Student