EXECUTIVE LEADERSHIP
PRESIDENT & VICE-chancellor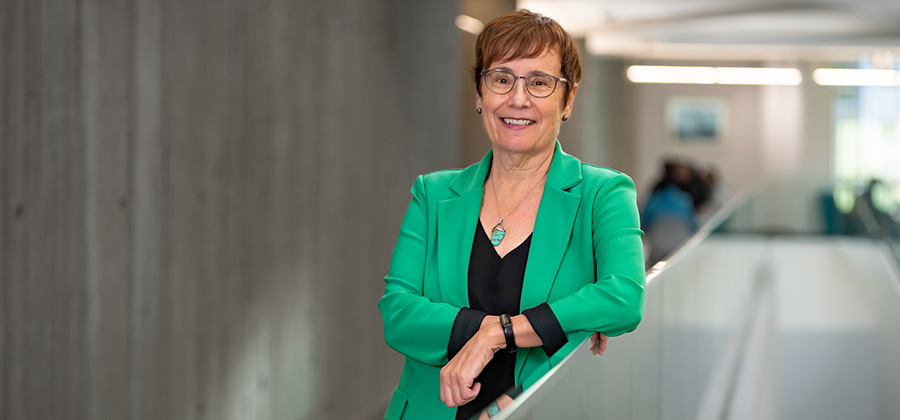 Dr. Annette Trimbee is the sixth president and vice-chancellor of MacEwan University, having previously served as president and vice-chancellor of the University of Winnipeg.
Dr. Trimbee brings to MacEwan a wealth of experience and knowledge as a leader in both the post-secondary and the public sector. As an accomplished academic, Dr Trimbee holds a PhD (Ecology) from McMaster University, a M.Sc. from the University of Manitoba and was a postdoctoral fellow at the University of Alberta.
In addition to her time as a postdoctoral student at the University of Alberta, Dr. Trimbee spent over 25 years in Edmonton building a distinguished career with the Government of Alberta. During this period, she held several senior leadership positions, including appointments as deputy minister with Advanced Education and Technology and with Treasury Board and Finance.
Dr. Trimbee currently serves as the chair of the Council of Presidents of Post-Secondary of Alberta (COPPOA). She also chairs the Canadian Research Knowledge Network, a partnership of universities dedicated to expanding digital content for the academic research and teaching enterprise in Canada. She serves on the board of The Conversation Canada and is a member of the International Red River Board that provides assistance to the International Joint Commission in matters related to the water management along the Canada-U.S. boundary.
Previously, Dr. Trimbee served on the board of Universities Canada, the voice of Canadian universities at home and abroad, chaired USports, which oversees sports at 56 Canadian universities and served on the board of Manitoba Hydro where she shared her knowledge and expertise in water management and energy policy. In 2015, Dr. Trimbee was appointed to Alberta's royalty review panel, which studied the province's oil and gas sector with a focus on the royalty rate structure.
In the Fall of 2020, Dr. Trimbee was appointed by the City of Edmonton to chair the Community Safety and Wellbeing Task Force. The mandate of the task force was to work independently to develop recommendations to the City of Edmonton to address racism, discrimination, excessive use of force, poverty, and homelessness in Edmonton, based on trends, best practices, and change models from across Canada. In April 2021, Dr. Trimbee and the task force presented their report to the City of Edmonton "Safer for All, Report and Recommendations of the Community Safety and Well-Being Task Force."
Teaching Greatness: Strategic Vision 2030
MacEwan University's new strategic framework, Teaching Greatness: Strategic Vision 2030, incorporates concepts of motion and change and embodies MacEwan's history.
The new vision is bold and aspirational, and it is about redoubling our emphasis on exceptional undergraduate teaching.
State of the University
Over the past year we have begun to implement the five key directions of Teaching Greatness: Strategic Vision 2030. The State of the University address is an opportunity to reflect on our progress as a university community and the future we are creating together.

State of the University Remarks Script
Office of the President contacts