CONSERVATORY of MUSIC
Vladimir Rufino
PRIVATE LESSONS | VIOLIN, VIOLA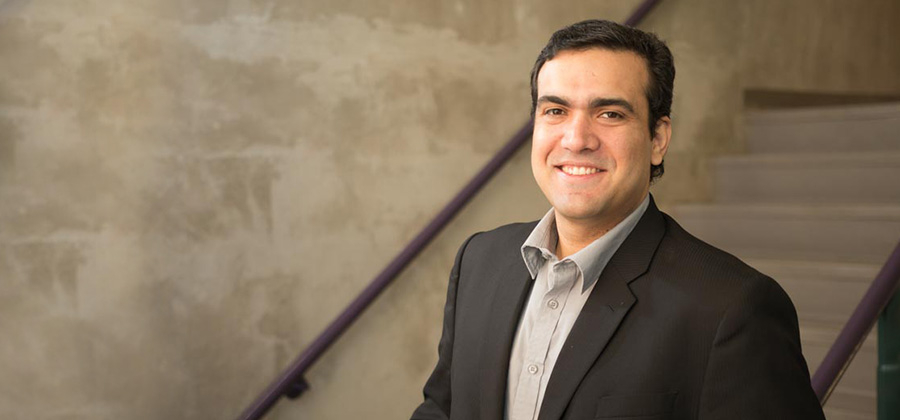 I believe that teaching is an opportunity to inspire students to fully develop their potential as musicians. I will be on sabbatical until August 2024. I look forward to returning is September 2024.
About
Brazilian-Canadian violinist Vladimir Rufino, has brought his love of music to stages in South America and Europe as well as Canada and the United States. He offers high quality instruction exemplified by his experience with teachers Yerko Pinto Tabilo and Charles Stegeman, and his participation in music festivals and symposia in Brazil, Canada, and the United States including the Starling-Delay Symposium on Violin Studies at The Juilliard School. Vladimir also shares his experience when he adjudicates for festivals and competitions across Alberta. On many occasions, Vladimir has performed with orchestras in Brazil, the United States, and Canada, serving as concertmaster or assistant concertmaster. His chamber music experience includes numerous international performances as part of the Quartet Quarta Dimensão, the Camerata Brasílica, the Villa-Lobos String Quartet, and the Vaughan String Quartet. Besides performing the standard classical repertoire, Vladimir has performed and recorded a number of works by Brazilian composers. Vladimir currently performs regularly with the Edmonton Symphony Orchestra, the Okanagan Symphony orchestra and as first violin of the Vaughan String Quartet, which released its debut CD in 2018.
Lessons
Vladimir offers private violin and viola lessons in-person at the Alberta College Campus and online for ages 7+ from beginner to advanced levels, including adults learning the instrument for the first time. The focus is on classical violin. Students will learn posture, positioning, sight reading, history of the violin and composers.
Throughout the year, students will have opportunities to perform in recitals and participate in various masterclasses partnered with viola instructor Fabiola Amorim.
With Vladimir's performance experience, students will receive invaluable insight and inspiration to pursue their own endeavors in performances, competitions, examinations, audition and post-secondary education.
Valdimir will be on sabbatical from August 2023 to August 2024 therefore is not accepting students at this time.
Education
Doctor of Music degree from the University of Alberta (Canada)
Master of Music degree and Artist Certificate from Azusa Pacific University (USA)
Bachelor of Music degree from the Universidade Federal da Paraíba (Brazil).
Performances / compositions / recordings
Debut: Violin and Viola Duets with violist Fabiola Amorim
Vaughan String Quartet CD Villa-Lobos, Runcini, Boi, Carlos Gomes
DMus Recording - Styles and Extended Techniques in 6 Works for Violin from Paraíba since 1952. (Canada)
Performance/Recording of R. Murray Schafer's Apocalypsis - Analekta Label (Canada)
Vaughan String Quartet Concert for the Associazione Amici di Paganini / Associazione Amici del Monastero di Santa Chiara (Italy)
Grupo Quarta Dimensao CD Eli-Eri Moura: Chamber Music. (Brazil)
Camerata Brasílica CD Brasilêra: concertmaster. (Brazil)
Professional associations and memberships
The Association of Independent Music Teachers at Alberta College (AIMTAC)
Very encouraging!
Lawrence, Violin Student