When MacEwan first opened its doors in 1971, its purpose was crystal clear. "Our institution was founded to teach," says Dr. Craig Monk, provost and vice-president, Academic. "It's rooted in our mandate. It's how we serve our community, and it's a commitment from which we have never strayed."
That isn't to say that there haven't been significant changes over the past five decades – shifts in programming, formalizing research and creative activity, and the move to university status. But MacEwan's evolution over 50 years, explains Dr. Monk, is a story shaped by the desire to enhance the teaching experience. 
"At MacEwan, we know we have great teachers," says Dr. Monk. "And we believe that those great teachers foster greatness in our students through their instruction. It's why the concept of teaching greatness underpins our new strategic vision."
Here, several of the university's Distinguished Teaching Award recipients reflect on their teaching, alumni who illustrate teaching greatness and what they hope the next decade might hold.
From the ground up
Raymond Baril's (Distinguished Teaching Award '16) first days as a sessional instructor in the early 1980s at the Jasper Place Campus (eventually renamed the Centre for the Arts and Communications) were a whirlwind. 
"We were teaching jazz and contemporary music at a time when that was not even a thing," says the associate professor. "There wasn't a curriculum in place back then – we were developing it as we went and teaching based on our experiences as practicing musicians. It was a time of making mistakes, learning from them and moving forward."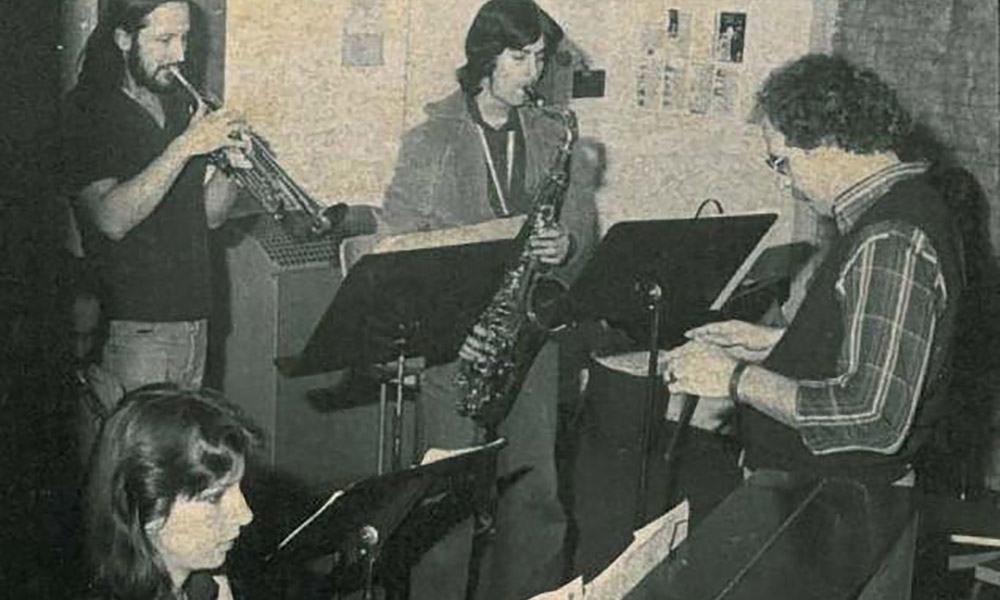 Students in the music program.

The early days of developing what is now a well-established program of study in contemporary popular jazz music involved constant evaluation, reconstruction and decision making. But regardless of the choices made, says Baril, faculty members were guided by what would be best for students.
"Back in the late 1980s, everything was less formal, and what we learned was based on our teachers' own experiences. It was pre-Internet, so it wasn't that they had all of these magical answers, but that we had so much access to them. We could inundate them with questions – and I did. When I think back on my time at MacEwan, it's the support, the encouragement and the generosity of my instructors that stands out most."
– Jim Brenan (Music '90), BMus '92, St. Francis Xavier University, Masters in Jazz Studies '95, Rutgers University, Professor, General Education at Mount Royal University
It was the same in the Faculty of Health and Community Studies, says Dr. Cheryl Crocker (Distinguished Teaching Award '96), who spent years teaching in the Rehabilitation Services program beginning in 1985. 
"Being student-centred back then meant we had very strong individual relationships with our students – it felt like a family. And through that connection, we could help students discover a love of learning and master content so they could go out into the world to speak for and stand with people who do not enjoy the same privileges."
Community Builders – Barb Reid
Visit MacEwan's 50th Anniversary Community Builder Map to read more about MacEwan alumni like Barb Reid (Rehabilitation Practitioner '82 and Distinguished Alumni Award Recipient '11), who work to create inclusive spaces.
See the map
Students as partners
"As faculty, we see ourselves as part of the learning experience," says Dr. Chaldeans Mensah (Distinguished Teaching Award '96). "The time we spend with our students and the quality of teaching that happens during that time is what makes the difference."
Although the associate professor of political science has taught thousands of students since his first days as a sessional instructor in the Seventh Street Building, he says his approach remains essentially the same. 
"It begins by treating students with respect – that is the foundation and the basis for doing my job."
MacEwan was a golden time in my life. As a student, I experienced real engagement, real discourse, unpacking of complex ideas and the ability to test and tease those ideas apart. I learned from professors who could take abstract, philosophical concepts and turn them into applicable real-world experiences that I have carried with me for 20 years. 

Leading through a time of disruption and major change, I think back to the philosophy of ethics course that I took at MacEwan. It's a north star for me. I always come back to the foundation of ethics, philosophy and integrity when making really tough decisions. My experience at MacEwan has stood the test of time and became a foundation for the rest of my life.
– Amina Deiab, BA (Political Science) '09, MacEwan University; Master of Public Policy and Administration, Carleton University '14. President and CEO of the Safety Codes Council.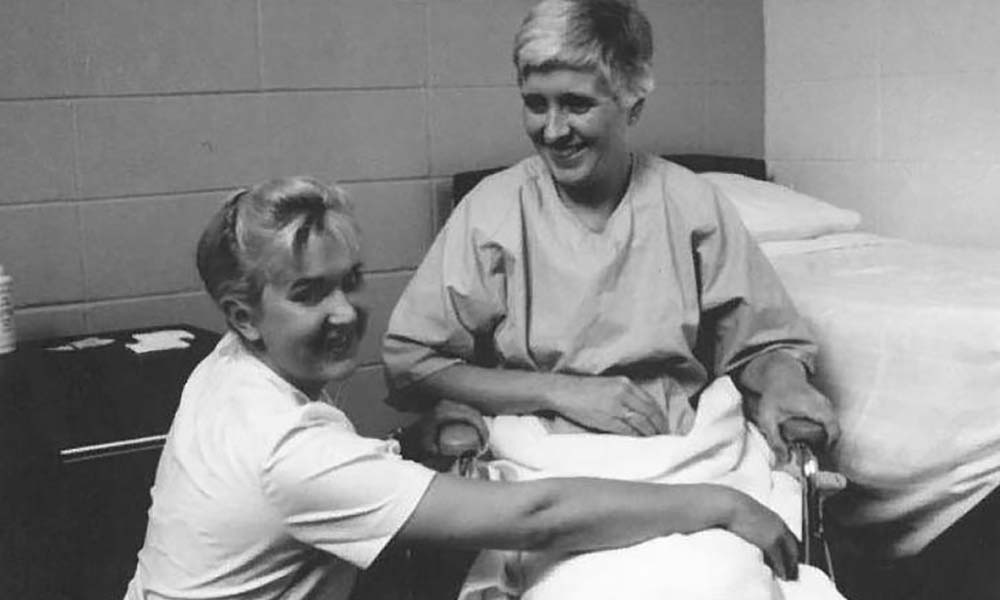 Early days in MacEwan's nursing program.
Dr. Colleen Maykut (Distinguished Teaching Award '11) also shapes the learning environment in her classes around mutual respect. 
"My early teaching was very vocational and rooted in disciplinary knowledge, which is important," says the Bachelor of Science in Nursing professor. "But over the years, my approach has evolved and continues to evolve. Recognizing how little I know of the world and how much privilege I have has to be at the forefront. Acknowledging that I'm both a teacher and learner, and so are my students, is fundamentally important."
That approach, explains Dr. Maykut, means creating space for vulnerability and humility – something Eaman Mah (Distinguished Teaching Award '21) understands particularly well. Her students enter the classroom about as far out of their comfort zone as you can imagine. 
"My students and I don't even share the same language," says the English as an Additional Language instructor, who is just finishing a year as interim associate dean in the School of Continuing Education. "They are incredibly vulnerable, and that vulnerability means that they need to be able to trust me and that we have to be able to find ways to connect."
Those connections are often made during conversations about students' goals. 
"Maybe they were nurses in their home country but can't get certified in Canada. Maybe they were engineers or public servants. Or maybe they want to be able to help their children with their homework. We work together to set realistic goals and avenues for them to get where they want to be."
I didn't speak any English when I moved to Edmonton in 2017. I understood almost nothing my instructors said for the first month of classes. It was really difficult, but my instructors kept motivating me. We talked about what my goals were. I knew I wanted to be able to speak academic English so I could go to university, and I wanted to work in business. I also dreamed of buying a farm back home in Colombia.
Five years later, I'm working full time for TELUS, I'm a semester away from finishing my business management diploma and I just bought an acreage with a small farm. It's a dream come true.
– Merly Pinzon Munoz, English as an Additional Language graduate and Business Management diploma student at MacEwan University.
Focusing on the end game
For Dr. Etayankara (Murli) Muralidharan (Distinguished Teaching Award '17), helping students reach their goals has completely shifted the classroom paradigm. 
"The guiding principles in my classroom involve shifting from 'instructor' to 'facilitator,' from 'me versus you' to 'me and you,' and from 'transactional to relationship,'" explains the associate professor and department chair in the School of Business. 
That fundamental shift in the faculty/student relationship results in new opportunities engaging with his students both inside and outside the classroom, providing experiential learning opportunities backed by insights from the latest scholarship, says Dr. Muralidharan. 
Dr. Maykut agrees that the connection between excellent teaching and scholarship is key. 
"Being student-centered means making sure that students are always part of the research process – that we find ways to draw students into research to be in relationship with their professors and see that they have a place in that environment."
But, she adds, that connection doesn't necessarily mean that all students will be directly involved in research. Rather, the opportunity to weave scholarship into teaching presents students with a different way of thinking about their world.
When I think back on my time at MacEwan, I can't tell you the content of the papers I wrote, but I remember the personal learning experiences I had. Those are the moments that matter to me most.
Many of my professors had a big impact on the way I practice nursing, so it's almost comical that Dr. Colleen Maykut is one of my favourite profs, given that she never taught me a single course. When she reached out to nursing students asking for co-researchers in a research study, I volunteered. Our results were published in a journal, and I helped present them at an international conference in New Orleans.
I feel lucky to call Dr. Maykut my mentor. She is a role model for her passion for caring and teaching and the nursing profession.
– Nelson Garcia, BScN '15, MacEwan University; Master of Nursing and Post-Master Diploma – Nurse Practitioner '21, University of Calgary.
Into the big, wide world
Citizenship – corporate, local, global – is a theme that weaves itself through the comments of each of the Distinguished Teaching Award recipients. 
"Helping students acquire important skills and moving them along their career trajectory is important, but part of the outcome must be to inspire them to be able to see themselves as part of the global community," says Dr. Mensah. As faculty sponsor of the university's legendary Model UN club, he has seen firsthand the results that real-world experiences can have in helping students see their impact in the world. 
And that's the case no matter what your discipline, says Dr. Maykut. 
"Whether we're teaching accounting or nursing or music, I think we have a fundamental responsibility to our students to ensure that their learning isn't just about their career – it's also about preparing to be global citizens when they graduate. It's about discovering ways to use their education and career to give back, receive and acknowledge that there are many perspectives other than their own."
Seeing his students go on to excel as responsible corporate citizens is a big part of what drives Dr. Muralidharan's passion for teaching. 
"Close to 2,000 students have been in my classes during my tenure here at MacEwan, and I have been in touch with many of them after they have graduated," he says. "Seeing that I have been able to make a difference in their lives are some of my proudest moments."
My professors' encouragement, guidance and expertise helped open doors for me. 
I was a research assistant for Dr. Muralidharan as part of the first cohort of the School of Business's honours program, a member of the Enactus Club and a participant in the European Innovation Academy in Portugal. I competed many times in New York with the MacEwan Model UN group and had the opportunity to go to China with the team. Those experiences helped me score a deployment with the United Nations to Cambodia in 2020.
The more time that passes since I've graduated, the more I realize that to navigate and thrive in this complex and exciting world, we need to think beyond our majors and be able to string together different facets of knowledge, expertise and lived experience.
– Sejal Tiwari BCom (Hons, International Business) '19, MacEwan University. International Development Officer, Global Affairs Canada, Asia-Pacific. Tiwani is also a master's student at the University of Ottawa, where her SSHRC-funded thesis focuses on women entrepreneurship and microfinance in Southeast Asia.
Setting a path forward
As MacEwan wraps up its 50th anniversary celebrations, it is also looking forward and making plans for what the rest of this decade will look like. Teaching Greatness: Strategic Vision 2030 seeks to guide the university's ambitious desire to grow, building not only on MacEwan's teaching roots, says Dr. Monk, but also on the university's desire to serve. 
"We're asking ourselves what it means to be a great professor in the 2020s, and part of that is all the qualities that have always come with being a great teacher. But it's also about looking at how we can expand our students' educational experiences beyond the classroom and the lab, and into the community."
Teaching Greatness is also about what Dr. Monk describes as "whats": delivering exceptional undergraduate learning, increasing flexibility, preparing future-ready graduates, pursuing scholarly activity that enhances the classroom experience, taking an entrepreneurial approach to teaching and incorporating new technology. Achieving each of those things, however, involves a series of "hows": keeping an eye on sustainability, respecting the university's commitment to reconciliation, including diverse perspectives and embracing pedagogy that emphasizes community. 
"I can't imagine a better constituency to do that with than the people who are part of the academy at MacEwan," says Dr. Monk. "In 10 years, I am confident that we will have evolved to become precisely the institution that the community needs. Because of that, the community itself will have progressed in so many different positive ways."