It has been more than nine months since the Griffins women's soccer team made history with the first U SPORTS Championship in MacEwan's history.
As they turned the page to a new season with Friday night's Canada West home opener, members of that 2021 banner-winning team were feted in a special pre-game ceremony at Clarke Stadium where they were awarded championship rings.
The celebratory moment wasn't lost on 2021 captain Samantha Gouveia, who is now a mental skills coach with the Griffins women's soccer team after graduating from MacEwan.
"Obviously, we wish the ceremony was a lot sooner because of the anticipation. We couldn't wait for it," said Gouveia. "I think the intention behind the ceremony was we made history, but we want to continue to make history. Two rings are always better than one.
"Hopefully, the upcoming Griffins who joined the program see how tight knit our group is. We had a goal we accomplished together. We hope that they take some inspiration from this moment. It starts with the home opener. Week by week, hopefully in November they're celebrating the same thing."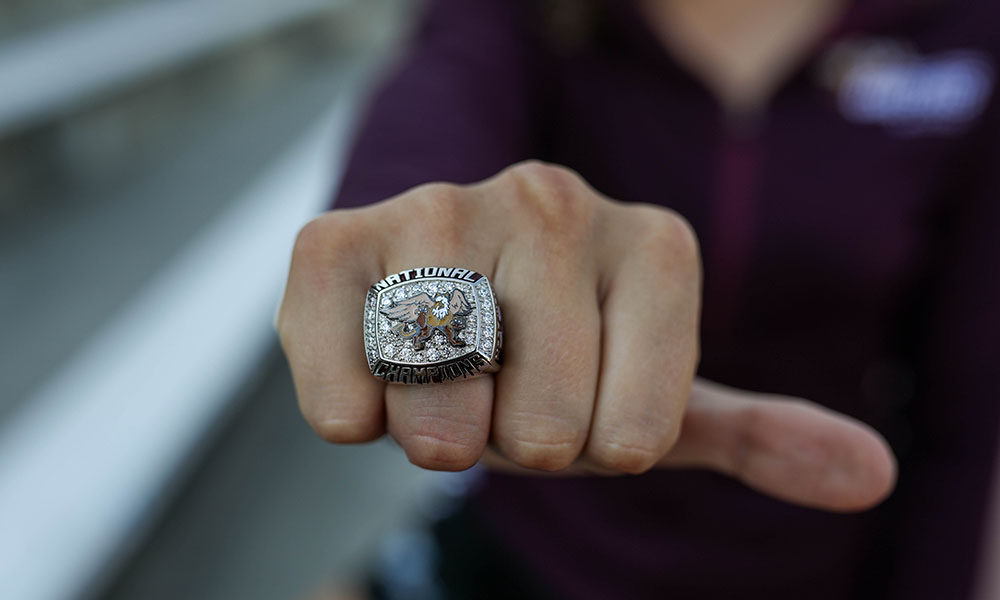 The championship ring (Tia Schram photo).
On Friday night, the Griffins got the season started right with a 3-1 win over the University of Alberta Pandas.
Head coach Dean Cordeiro said the evening's great finish came after the pre-game ceremony set the tone for the standard of excellence the program is known for.
"I'm at a loss for words," he said. "The university did a great job to honour our 2021 U SPORTS national championship. It's great to see our five graduating players back and our staff to be able to celebrate such an incredible achievement.
"Those things are tricky; you like to have it before the game. Emotions are high. But the team was laser focused. You saw how we came out of the gate as strong as we did. I'm proud of the group to be able to switch that gear."
The next MacEwan Griffins women's soccer home game is scheduled for September 17 when they host UNBC (12 p.m., Clareview Field). Admission is free.
Let's stay in touch!
Sign up to receive our weekly MacEwan University e-newsletter straight to your inbox.