That combination has led to the Gene Zwozdesky Artist in Residence program at MacEwan University, something the Zwozdesky family believes is a fitting tribute.

"We are just very thrilled that he is remembered in this way," said Christine Zwozdesky, Gene's widow. Her son Myron added, "my father's pursuit of enabling education and leadership is perfectly encapsulated in this program."

The initiative was formally announced at an event marking the 35th anniversary of the URDC. Attendees included former premier Ed Stelmach and former deputy premier Thomas Lukaszuk. 

Among those who spoke to the crowd was Roman Petryshyn, the founder and first director of the URDC and a recent recipient of the Order of Canada. The Consul General of Ukraine in Edmonton Oleksandr Danyleiko also addressed the gathering. Hosting the event was Stephanie Nedoshytko, a former Students' Association of MacEwan University president as well as a former MacEwan Ukrainian Student Club president.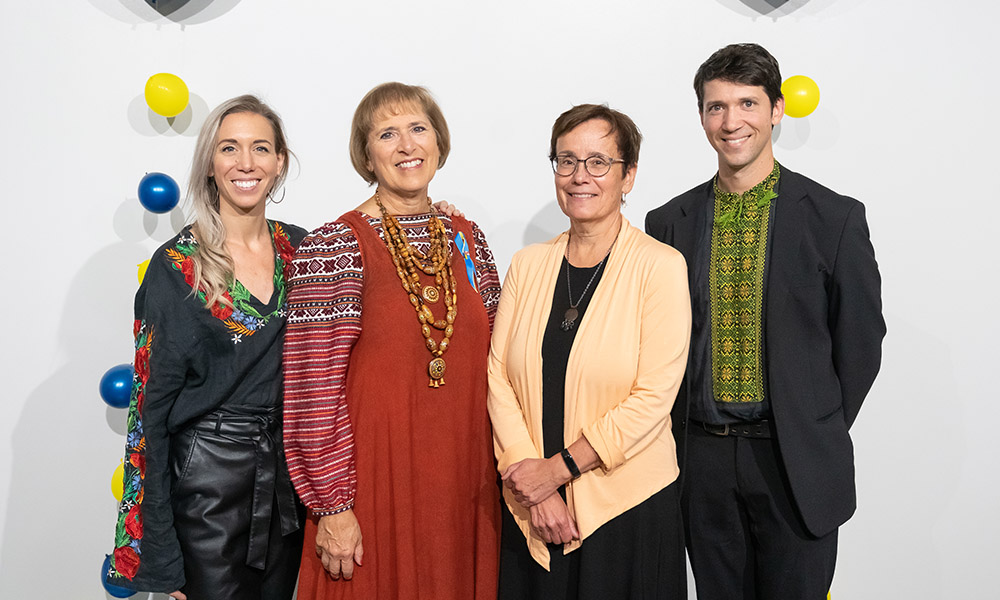 The Zwozdesky family with MacEwan President Dr. Annette Trimbee on October 13 at the URDC's 35th anniversary, where the new artist-in-residence program was announced. (L to R: Ariana Whitlow, Christine Zwozdesky, Dr. Annette Trimbee and Myron Zwozdesky)
"This program will bring world-class Ukrainian or Ukrainian-Canadian artists to campus for one- to three-month-long residences," said Dr. Annette Trimbee, MacEwan University president and vice-chancellor, as she officially announced the program. "Artists will have the opportunity to develop artistic practice, create opportunities to engage students and collaborate with Ukrainian faculty and Ukrainian-Canadian communities."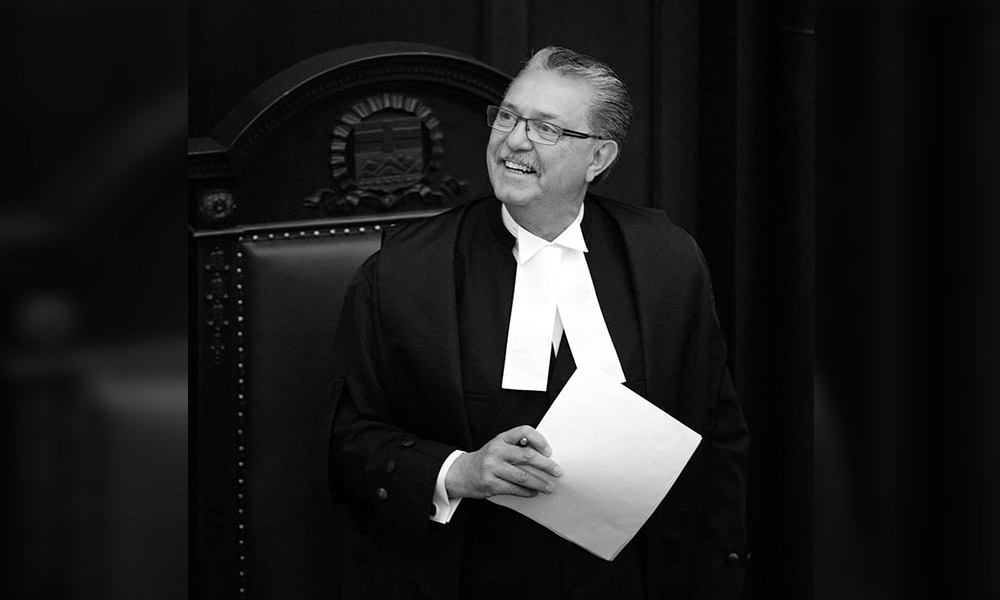 Official photo of the Honourable Gene Zwozdesky, Speaker of the Legislative Assembly from 2012 to 2015. Photo courtesy of the Zwozdesky family.
Zwozdesky was a longtime Edmonton MLA who served as Speaker in Alberta's Legislative Assembly from 2012 to 2015. During his time in government, he also held a number of cabinet positions including Minister of Education, Minister of Health and Wellness and Minister of Community Services.

Zwozdesky arranged for the establishment of the province's Advisory Council on Alberta-Ukraine Relations and included the URDCs director as a member. He also hosted MacEwan's international visitors from Ukraine at the Alberta Legislature and supported program development and exchanges between faculty and students in MacEwan's business, nursing, sociology and music programs and Ukrainian universities.

There were many other ways in which Zwozdesky advanced MacEwan's role as an advisor to the Government of Alberta, including involving the URDC's director in the preparation of the Ukrainian Famine and Genocide (Holodomor) Memorial Day Act, an act that was unanimously passed by the Alberta Legislature. He also encouraged MacEwan's dean of the Faculty of Fine Arts and Communications to highlight country music in musical studies. That effort eventually led to the Distinguished Visiting Artist in Country Music initiative, which was announced earlier this year. Zwozdesky also arranged to have Ruslana, winner of the Eurovision music award, perform in Edmonton and visit MacEwan University.

Zwozdesky died of cancer in January 2019 at the age of 70.

The first recipient of the Gene Zwozdesky Artist in Residence program will be announced in spring 2023.
Let's stay in touch!
Sign up to receive our weekly MacEwan University e-newsletter straight to your inbox.