The two years Elisabeth Belliveau spent isolating and social distancing in a 680-square-foot condo during the COVID-19 pandemic were the inspiration for CONDOLADY.
In Belliveau's first graphic novel, she shares a personal look at the significant and insignificant moments of pandemic life – teaching online in a new city, revisiting her 20-year-old Cindy Crawford workout videos and navigating news of her first pregnancy. 
But the associate professor of Studio Arts isn't the only artist with MacEwan connections turning away from their easels and toward sequential art that merges the tradition of comics with artist sketchbooks. Alumni Kiona Callihoo Ligtvoet (Fine Art '17) and Christopher Twin (Fine Art '20) also have graphic novels in press or coming soon.
We Were Younger Once is a 90-page pocket book of non-linear stories from the scrip land on the Michel First Nation where Ligtvoet grew up living with her moshom (grandpa). "It's a really important place and a hotspot of memories for me – it's where I used to play with my cousins and learned about heartbreak," she says. 
Twin's Bad Medicine also has ties to his childhood home. In the horror anthology set to launch in October 2023, teens take turns telling stories based on or inspired by Cree legends and contemporary "rez" life.
Place matters: November – December 2022
Where we find ourselves in the world, the connections we make within those spaces and the actions we take while there all have meaning. In November and December 2022, we're exploring the theme of spaces and places. 
Twin says he appreciates how graphic novels allow him to piece stories and concepts together using consecutive images in a way other mediums do not. "Every image becomes a small moment in a larger idea," he says.
Graphic novels allow studio-arts-oriented creators to tell stories through images that are developed, atmospheric and even cinematic to a much wider audience, adds Belliveau. "Rather than selling a single painting to one person, graphic novels get a lot of eyes on an artist's work."
Ligtvoet also appreciates how graphic novels can break down barriers. "Because the materials are affordable, it's a more accessible way for artists to share stories and explore ideas."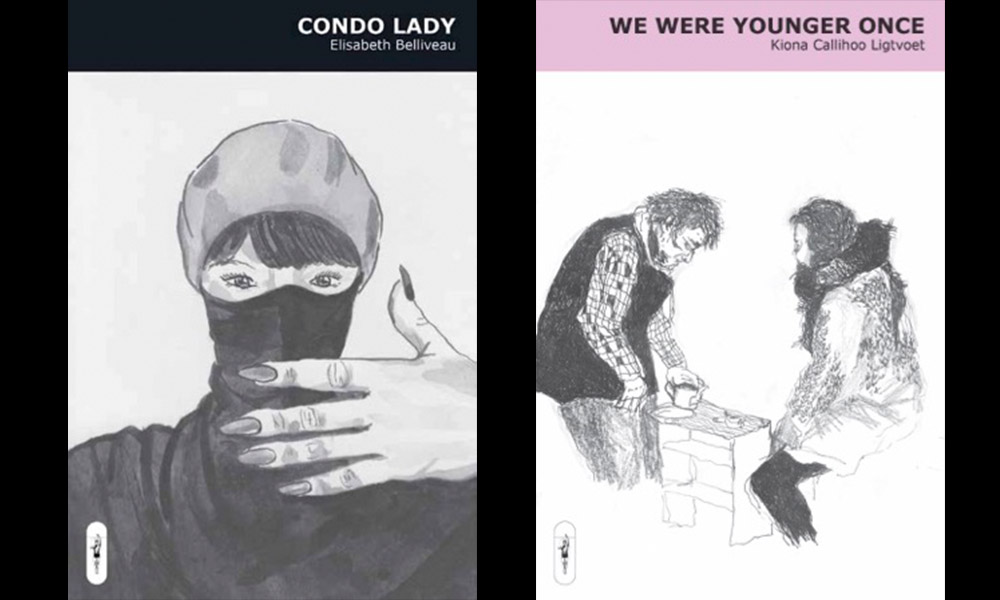 Cover designs for Belliveau's and Ligtvoet's graphic novels. 
The end product is also more affordable to own than many other art forms, giving graphic novels great potential to help artists get their work out into the world, says Belliveau. It's one of the reasons she introduces zines (noncommercial, handmade or online publications) to students in her Bachelor of Fine Arts classrooms. Not only are zines a fast, inexpensive way for students to learn how to bring image and text together, she explains, but their very nature and structure offer creators endless possibilities. "Zines and graphic novels can be full-colour, multimedia and experimental. Many are not straightforward or linear, which supports stories that are in the margins – feminist stories, queer stories and politicized stories."
Belliveau is thrilled that young graduates are getting published and gaining exposure at book fairs and bookstores across the country. It's the perfect inspiration for her students. 
"Seeing young artists right here in amiskwacîwâskahikan (Edmonton) producing work and being published is really important," she says. "I hope my students are inspired to approach publishers and look for these opportunities too."
Let's stay in touch!
Sign up to receive our weekly MacEwan University e-newsletter straight to your inbox.