QUEBEC CITY – For the second time in program history, a MacEwan Griffins women's soccer player has made the U SPORTS first all-star team.
Grace Mwasalla was named to the squad at a Wednesday night banquet in Quebec's capital ahead of Laval University's hosting of the 2022 U SPORTS women's soccer national championship.
"It's a very exciting accomplishment for sure, but I think the big thing is I wouldn't have been able to be in consideration if it weren't for my teammates and coaches," said Mwasalla.
The honours didn't stop there for the MacEwan women's soccer team on Wednesday as Anneke Odinga was named to the U SPORTS second all-star team and Kiann Bohnert made the U SPORTS all-rookie team. Both were the third players in program history to achieve those feats.
"I am so proud of these players and the efforts of the team that helped propel them into having an amazing season," said Griffins head coach Dean Cordeiro. "Knowing they're only getting started with their careers is pretty exciting. The future is extremely bright."
Mwasalla joins Jamie Erickson (2019) as the only Griffins women's soccer players to receive the exclusive first team honour since the program joined U SPORTS in 2014.
"It's really special and well deserved," said head coach Dean Cordeiro of Mwasalla who was previously named a Canada West first team all-star. "She had a record-breaking season with 15 goals and two assists (the most goals and points in a single season in MacEwan's Canada West history).
"It's an incredible feat, especially considering she is only in her second year. She is so deserving of this honour."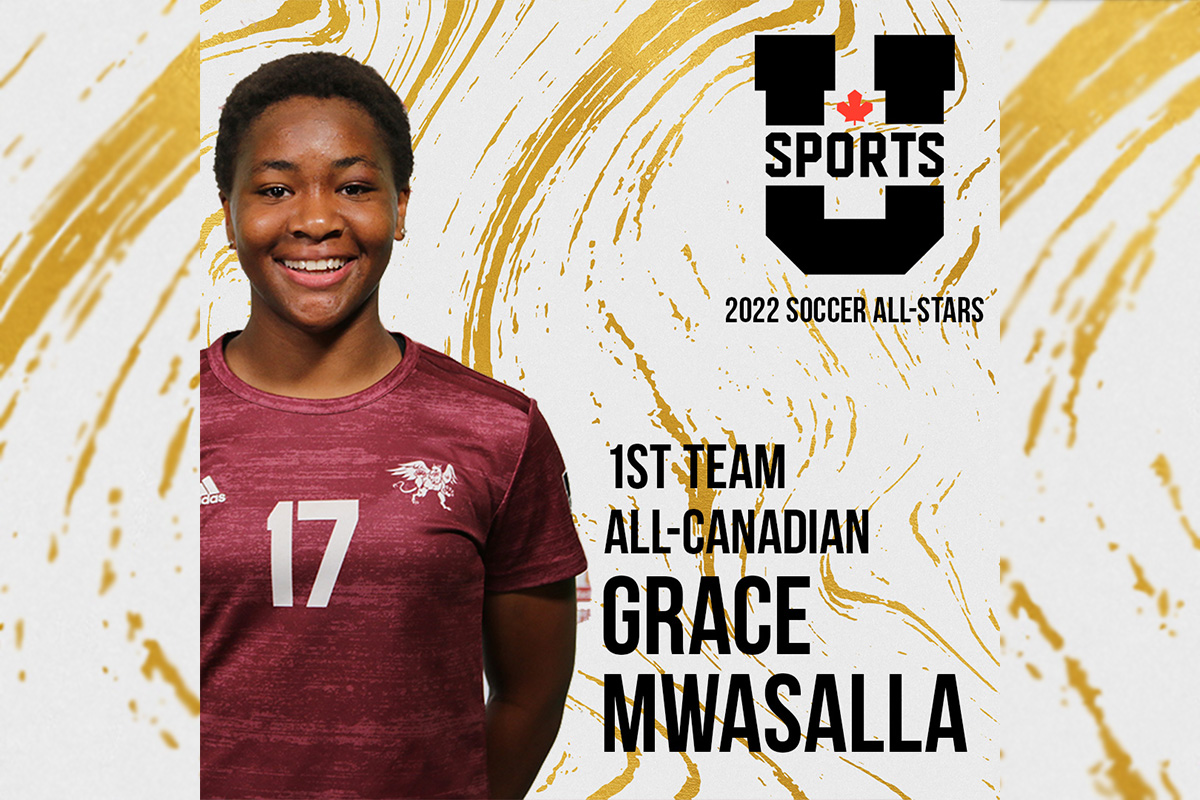 Mwasalla broke Suekiana Choucair's record of eight goals set during the 2016 season and topped the former Griffin's point mark of 13 set in 2019.
"I wasn't conscious of Suek's record," said Mwasalla. "I only knew about Meagan Lemoine's hat trick - (Mwasalla broke Lemoine's record for the fastest hat trick on Oct. 7 at Winnipeg) - but it was definitely exciting to find out I had broken all those records. 
"Scoring 15 goals was really fun this year and I'm surrounded by great teammates who gave me the opportunity to put the ball in the back of the net whenever it need be."
Odinga is the third Griffins player to make the U SPORTS second all-star team, following Emily Burns (2019) and Samantha Gouveia (2021).
"I think the word that comes to mind is gratitude," said Odinga. "I'm just extremely grateful for my team and my coaches. Just being able to get that accomplishment individually means a ton."
Odinga recorded five assists in 14 games, driving play for the Griffins from the fullback position.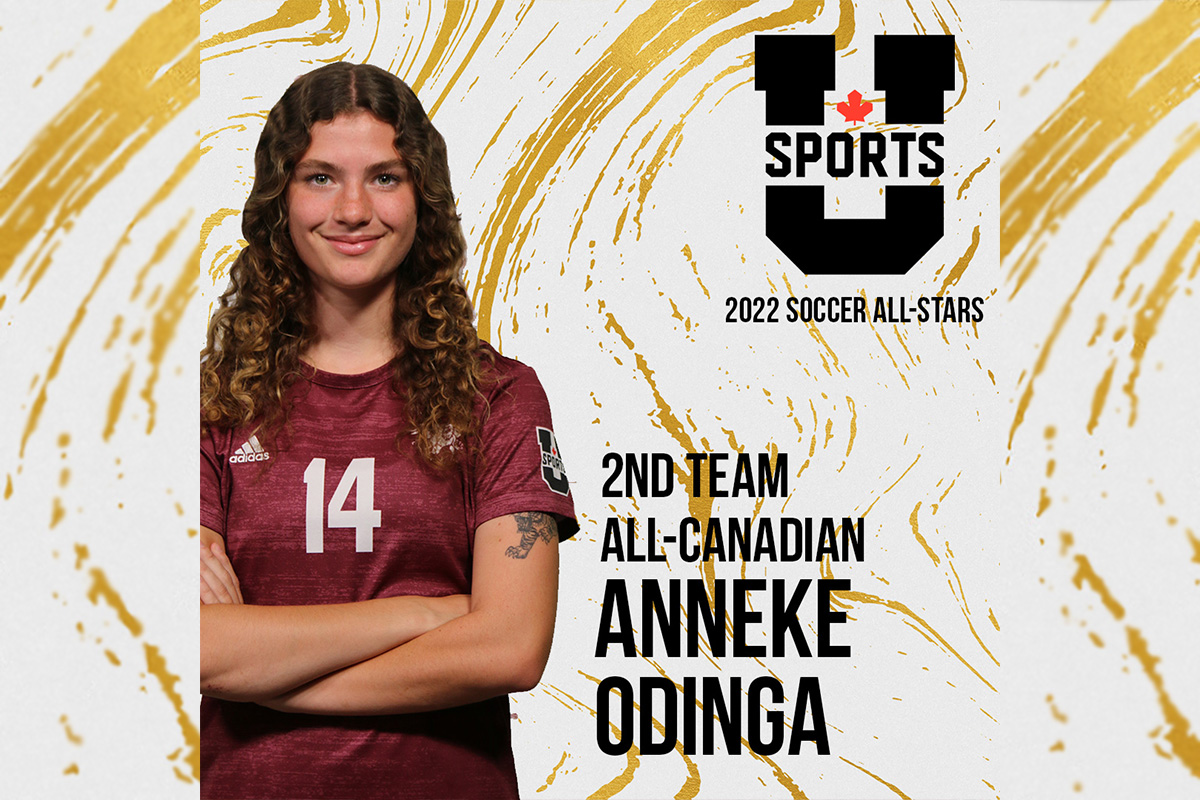 "She was an absolute rock for us in the back." said Cordeiro. "Her ability to get up and down the pitch generates so much offence, and no one can do it with the speed and skill that Anneke possesses. 
"She's one of the top defenders in our conference and it's nice that she's getting that recognition on the national stage, as well."
Odinga noted the step forward from her rookie season came as a result of playing confidently and using her speed.
"I know last year I played super conservative as a rookie and this year I thought I had more to bring to the table," she said. "I wanted to do what I knew I could do to help our team win. I just thought that my speed was one of my tools in the toolbox."
Bohnert is the third player in program history to make the U SPORTS all-rookie team, following current teammate Hannah Supina (2018) and former Griffin Sofia DiGiacomo (2019).
"It's a huge accomplishment for myself, but I just really appreciate the support I've had from the team and the coaches," said Bohnert. "I'm just glad we could pull some good things out of the season."
Thought to be the youngest ever to make the U SPORTS women's soccer all-rookie team, Bohnert played her first season at MacEwan as a 16-year-old, but remarkably led the Griffins in minutes from the most demanding position on the pitch – centre-back.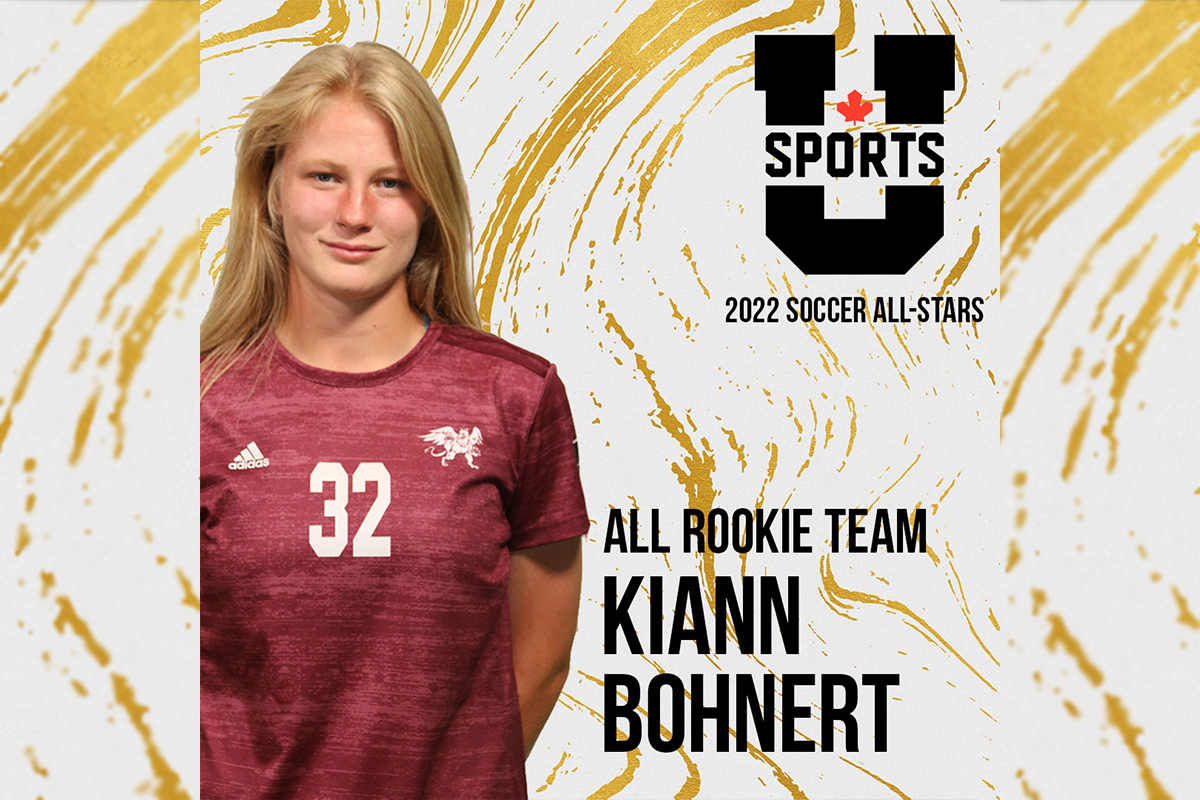 "Kiann is a remarkable story – 16 years old and played the most minutes on the team," said Cordeiro. "I know she will want to share this award with her team and everybody who's helped her along the way – that's the kind of kid she is. Centre-back is not an easy position to play at this level, but she's playing with the composure of a seasoned vet. I'm very proud of Kiann and the amazing season she had."
Mentorship was key for Bohnert, who played the entire season next to third-year centre-back Abbey Wright. Together they helped make the Griffins one of the stingiest teams in the country.
"It was so huge to have Abbey right beside me," she said. "I think I grew a lot from her. The mentorship and competitiveness between having an older player and younger player in the back line was exciting and it really drove me to keep improving myself."
Let's stay in touch!
Sign up to receive our weekly MacEwan University e-newsletter straight to your inbox.