Even though she's inextricably linked to Vancouver, Canadian music icon Sarah McLachlan says Edmonton is also a special place for her.
"I have a particularly warm spot in my heart for Edmonton. I've seen firsthand time and time again the powerful sense of responsibility to support community that exists here."
That responsibility is manifesting itself in MacEwan's new role as host to the Sarah McLachlan School of Music. During the late afternoon and evening hours, students from the school have access to Department of Music classrooms, performance spaces and practice rooms at MacEwan. The free program is geared towards children and teens who otherwise would not have the opportunity to study music.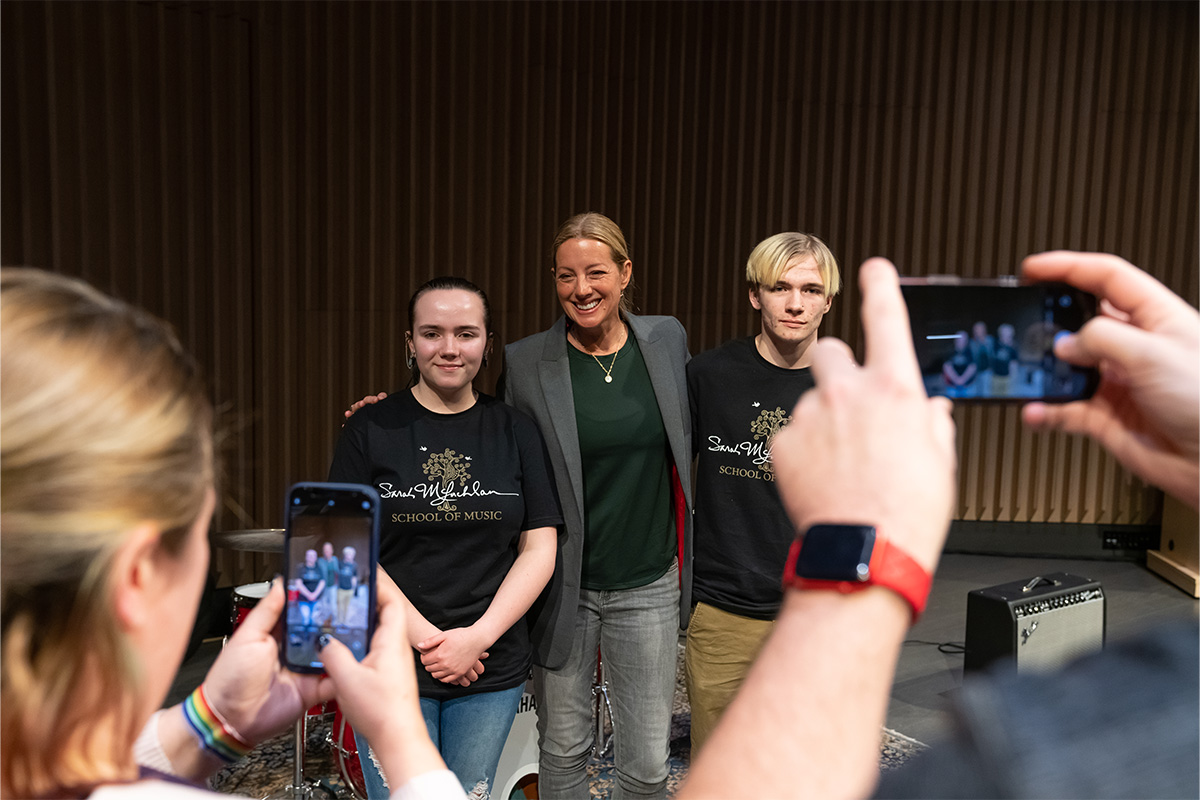 Sarah McLachlan with students from her school of music who performed at a ceremony in the Betty Andrews Recital Hall.
"This partnership with MacEwan University marks a significant milestone for us," McLachlan said during an event announcing the partnership held in the Betty Andrews Recital Hall in Allard Hall. "The school of music is like a second home for our students, so MacEwan University is now our house – providing the infrastructure for a safe space where Edmonton youth can thrive."
For MacEwan, opening its doors to young music students reinforces the university's commitment to being an important part of the downtown core, the city and the province as a whole.
"We are community-minded and I can't think of anything that better demonstrates that than having young people on our campus," said Dr. Annette Trimbee, president and vice-chancellor, who made the collaboration official by signing an agreement with McLachlan at the event. "I want students from our community to come on our campus and to feel comfortable and to feel like they belong."
Relationships: January – April 2023
Connections between two or more things – concepts, objects or humans – appear across disciplines and are described in many ways: professional, symbiotic, reflexive, familial, romantic, parasitic – or even toxic. Throughout the Winter 2023 term, we're exploring the idea of relationships.
In addition to the ceremony celebrating the school of music, McLachlan also held a question and answer session earlier in the day with MacEwan music students. She shared her secret for moving past writer's block (baking chocolate chip cookies and going for a hike) and which of her award-winning albums is her personal favourite (Fumbling Towards Ecstasy).
The Sarah McLachlan School of Music has been holding classes in a couple of different Edmonton locations for the last six years. But when they needed to find a new home, MacEwan stepped forward, led by the dean of the Faculty of Fine Arts and Communications, Dr. Allan Gilliland, and associate music professor and chair of the Department of Music, Dr. Bill Richards.
"So many of our graduates have gone on to teach in the school and so many students from the school come here to study," said Dr. Gilliland during the ceremony. "It's such a synergistic relationship we have and it's going to be such a wonderful long-term relationship."
The Sarah McLachlan School of Music has been phasing in its operations at MacEwan for the last few months. Approximately 150 youth from Grades 4 through 12 are currently enrolled with more students expected to join them over the next few months.
Click on the photos in the gallery below to see larger versions and read captions.
Let's stay in touch!
Sign up to receive our weekly MacEwan University e-newsletter straight to your inbox.