The indoor waterpark. A rollercoaster beside the food court. Children learning how to skate on a rink surrounded by stores. The fire-breathing dragon in the lobby of the movie theatre.
There's only one place that can lay claim to all of this and more. And right now there's only one place that incorporates all of these elements into a plethora of nostalgia.
The latest exhibition in MacEwan's Mitchell Art Gallery in Allard Hall is called THE MALL and it includes sculptures, paintings and interactive exhibits about the shopping mall that is loved by some and loathed by others.
"This is not a show about West Edmonton Mall's history, it's about nostalgia which kind of fits the fragmented images of the mall that we see here," says Carolyn Jervis, the gallery's director and one of the show's curators. "You go from pirate ship to faux European boulevard without really any transition. That makes the mall such a good way to think about postmodern culture which is full of these floating signifiers."
But the exhibition is not just an oversized scrapbook. THE MALL is meant to provoke people to think about the architecture, the works of art that have been in various places over the years and the degree to which it is an emblematic place in Edmonton.
"I think there's a lot of interesting architectural details and there's a lot of history to the mall that I think is worth considering or thinking about in a deeper way," says Hannah Quimper-Swiderski, the exhibition's co-curator. "Exploring such an iconic place through the art and vision of amazing artists from Edmonton -- and across Canada -- really make it such a dream project for me."
One sculpture in particular positions a variety of the mall's features to form a human body-like structure while a spotlight above alternates between normal and bright. The centrepiece? A dolphin leaping out of an aquarium.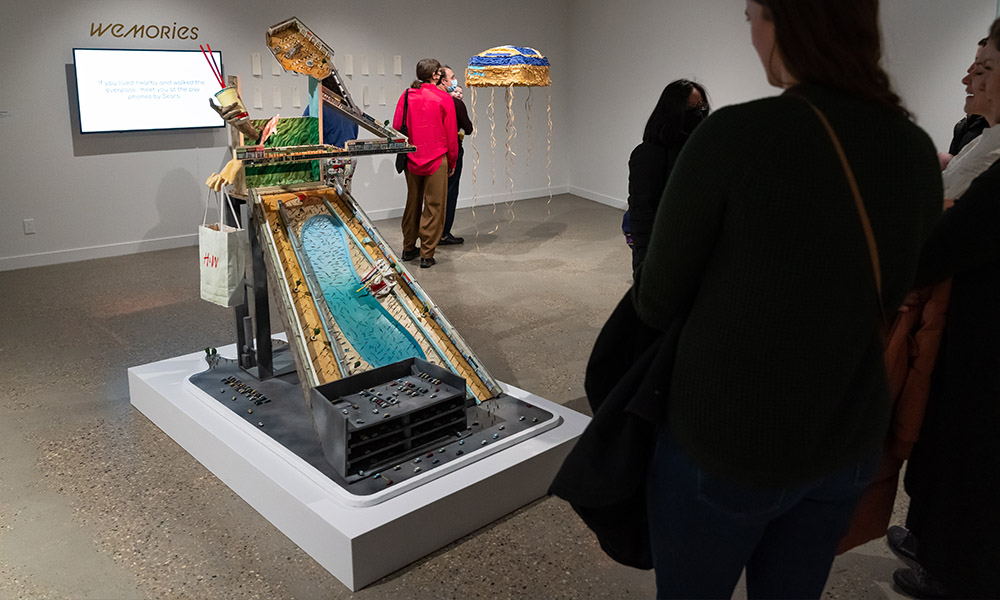 Jude Griebel's sculpture, which is part of THE MALL at MacEwan's Mitchell Art Gallery. Self-contained, Wood, air-drying clays. 2022. Courtesy of the Artist.
"You have all this busy-ness and activity and then the light changes to focus on the pinpoint which is this very surreal idea of a sea mammal floating on the Canadian prairies within this man-made structure," says the artist Jude Griebel. "It's really a matter of thinking about our physical surroundings and what we appreciate about being here. All these ideas that we have of other places that the mall sort of embodies and that we go there to consume."
In addition to viewing, gallery-goers are encouraged to get involved. People can submit artwork, poetry or photography that expresses their thoughts on mall food to Hungry Zine, a collaborative zine about food culture at the mall. Another project, a visual history map titled WEMories, encourages people to share their top-of-mind recollections of the mall. A video display shows some of the early "WEMories" submissions, including people who rollerbladed through the mall, slept overnight in line to audition for Canadian Idol or went for a ride in the submarine. Some even had wedding pictures taken there.
"Everyone is jumping on our social media because they so desperately want a place to share their stories about this space," says Jervis. "We try to always promote interactive elements but this one I think takes that up to another level. If the West Edmonton Mall show wasn't a little bit extra we wouldn't be doing it right."
The exhibition runs from January 20 to April 1, 2023 and will include artist talks and many public programs. 
For more information about the exhibition, please visit THE MALL.
For more information about the Hungry Zine submissions, please visit MALL FOOD.
For more information about the visual history map, please visit WEMories.
Let's stay in touch!
Sign up to receive our weekly MacEwan University e-newsletter straight to your inbox.