We're incredibly proud of the close to 2,200 people who earned the privilege of walking across the stage at the university's Spring Convocation ceremonies on June 20, 21 and 22 at the Winspear Centre, including 159 from the Faculty of Fine Arts and Communications.
"This last year was transformational for the Faculty of Fine Arts and Communications," says Dr. Allan Gilliland, dean, Faculty of Fine Arts and Communications. "Allard Hall was alive again for the first time in almost three years as students returned to our stages, galleries and studios to showcase their incredible work. They brought me and hundreds of patrons, faculty, staff and students to tears as they once again created the art they have trained for their whole lives."

Here, graduates share their favourite memories of their time at MacEwan, and look toward their bright futures in performance and visual art, journalism and communications, and music and production.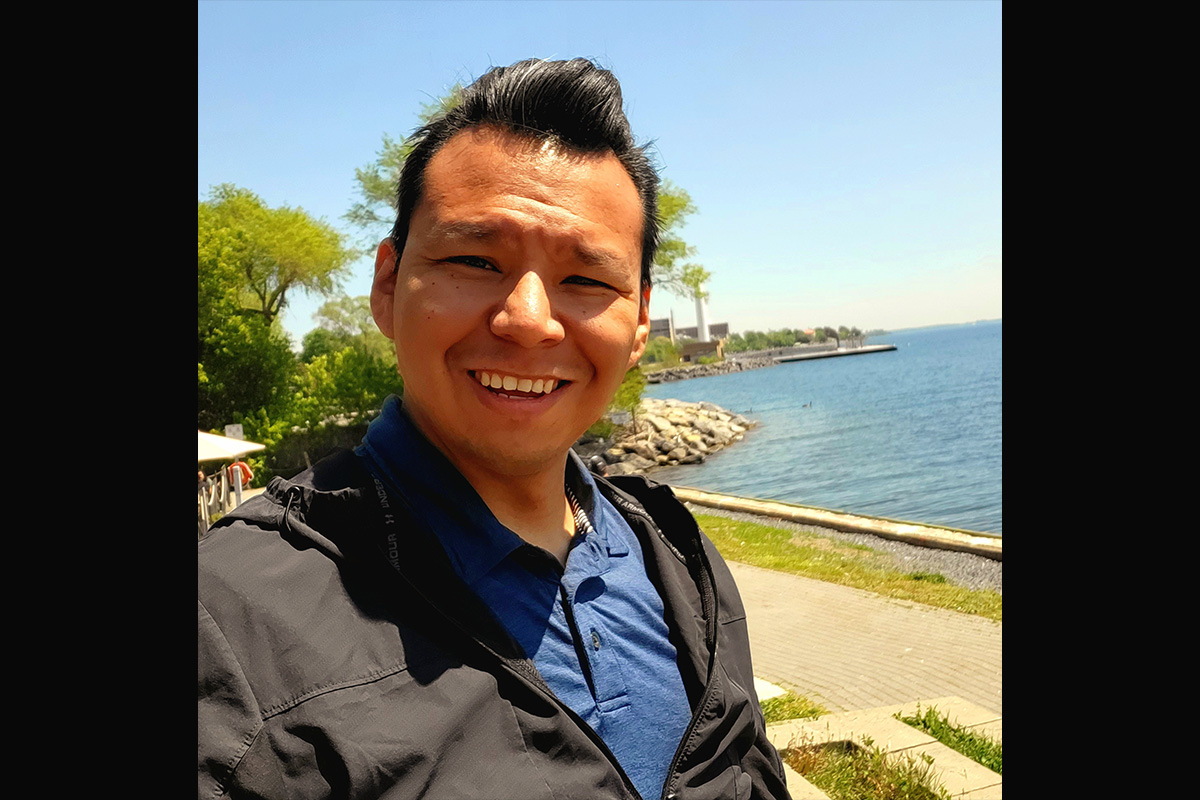 Gladwyn Badger
Bachelor of Music, General
I transferred to MacEwan after I graduated from the Red Deer College Music Diploma program in 2019. I knew there was so much more to learn and earning a degree while studying my favourite kinds of music was a no-brainer. 
I learned so much about myself after taking the Intro to Songwriting class in my third year. Until then, I never really saw myself as a singer/songwriter and  had never written anything original. I came to music school to challenge myself and to become more of a well-rounded musician, not just a guy who wanted to play guitar really well. It gave me the confidence to believe in myself as a musician, and I opened myself up to trying new things.
kihêw waciston was always a special place for me to go whenever I needed to study, relax, grab a snack, pray and get in tune with my culture as a Nehiyawak. I would often think of home whenever I'd hear "Auntie" laughs coming from the kitchen area.
I am currently studying for my graduate degree in Arts Leadership at Queen's University. Studying music at university opened my eyes to a lot of things, and one of the biggest is the  lack of diversity at the leadership level and gatekeeping opportunities for BIPOC live music workers in Canada. Research shows that BIPOC live music workers earn $11,700 less per year than white industry workers. As a proud Nehiyawak, my goal is to close these gaps in the live music industry by advocating for BIPOC artists and live music workers to have greater representation and a greater sense of belonging at the leadership level.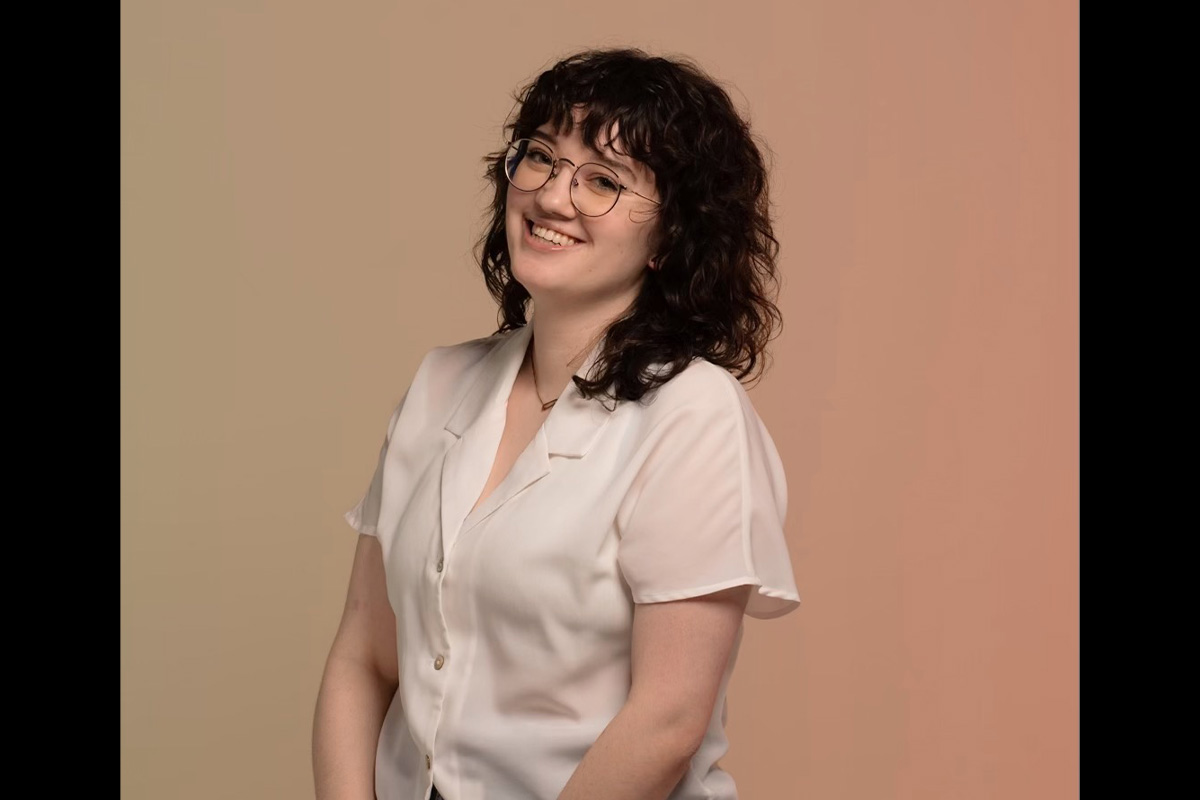 MOLLY BOYD
Bachelor of Design
I graduated high school then decided to go straight to university. The transition was pretty streamlined – I got paired with awesome roommates, and we've had many adventures together. As I reflect, I grew a lot during my 4 years here! The inclusivity of the campus really allowed me to express myself, thrive, and surround myself with amazing people. 
I knew I chose the right degree because I was surrounded by people that thought creatively like me. One spark easily becomes a flame when you are surrounded by creatives. I am passionate about design because of its interconnections with psychology and the way design has the ability to interact with people. I am so grateful for the creative community in Edmonton and am excited to become a part of it in my next chapter.
The last couple of years of my degree where I really got to choose what parts of the discipline I was interested in, such as interaction design and branding, really helped to define my time at MacEwan. Some other memorable moments were volunteering at the Centre for Sexual and Gender Diversity, participating in Pride Week and taking my first gender studies course where I was opened up to so much necessary knowledge!
During my year-long capstone course project, I worked on a fundraising campaign dedicated to raising awareness about multiple sclerosis. It was an opportunity to really show my design skills in an experiential learning environment. I want to thank the professors and many mentors on campus that helped get me this far, and opened me to so many new ideas.
I'm jumping headfirst into the job search now that I am finished school. So far, it has been challenging yet rewarding. I hope to work in branding or product design in the future.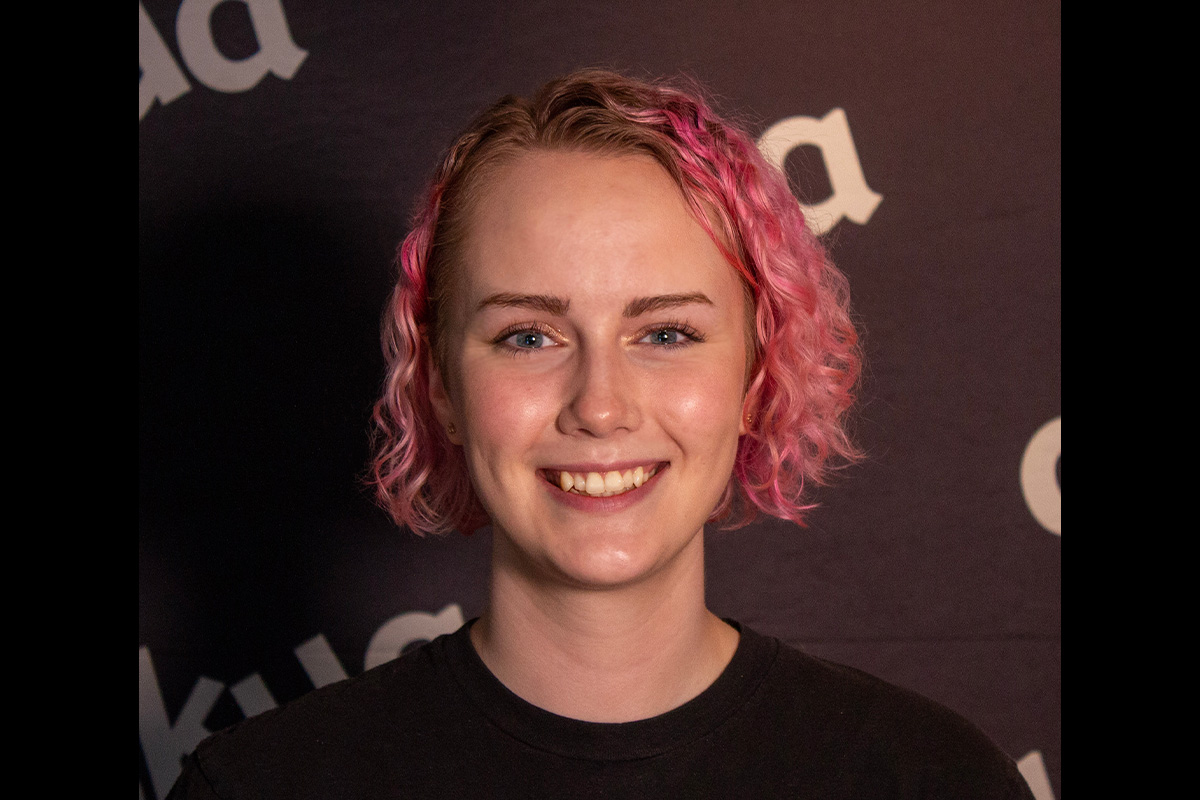 SHAYNE GILES
Bachelor of Communication Studies, Journalism
In my first semester, I felt really overwhelmed by journalism and all of its challenges, and was considering dropping out. What really cemented my will to stay was attending a speaker event featuring someone who had worked in photojournalism across the world. I think it just helped to show me that this can be a scary industry, but there's some really interesting people you'll get to meet one day. 
Coming from a small town, the information divide is just huge. In my first or second year, I took a psychology course that went into gender and sexuality, and that just raised a lot of questions for me. I ended up realizing and embracing that I'm nonbinary, which is amazing, but it just makes me think of how many people in rural communities don't have that opportunity or that access to information in a safe and caring environment.
Over the pandemic, I recognized the impact of isolation on already marginalized communities, and that the rush to do everything online was actually increasing access to people in rural communities. Now, I could interview people from across the world without having to physically meet up with them. I think that increased access to different communities and people has helped to make community journalism more accessible for rural areas, and bring people together over distance.
I took a radio news and documentary course back in 2019 with Sheena Rossiter, and I ended up finding my passion for radio in the process. It just clicked, and I knew I wanted to work with audio for the rest of my career, and focus on highlighting marginalized voices by providing a way for them to literally speak for themselves. I'd like to stay in community-based journalism while playing around with audio whenever I can. I'm currently working for Taproot Edmonton for the summer, and have a show on CKUA that's got enough research involved to keep me happy. For now, I'm broadening my horizons and experimenting with topics and beats I'm not super comfy in yet, like tech and business.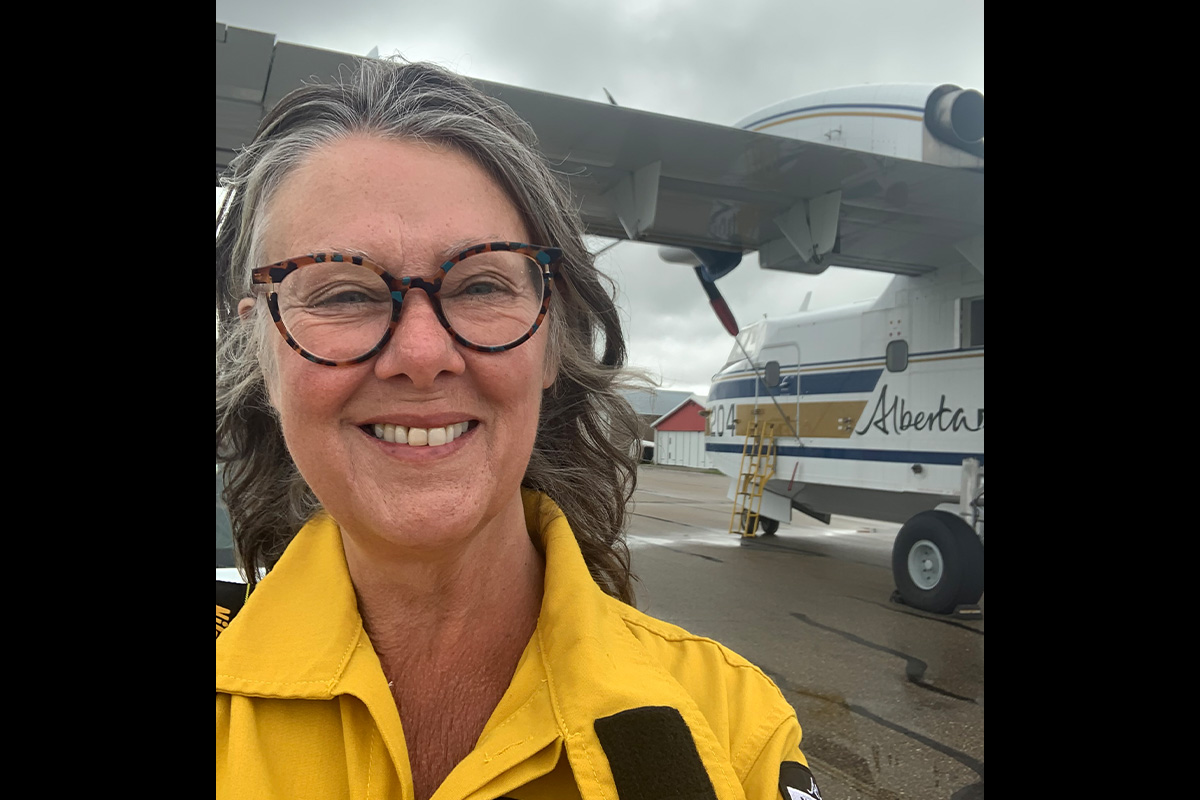 MICHELLE HULEY
Bachelor of Communication Studies – Professional Communication
I'm an alum of the former MacEwan Journalism program and have always believed MacEwan provides superior instruction and facilities. After working for many years as a journalist and editor, my undergraduate education is informed by that experience, and provides a unique depth to my perspective as a professional communicator. I completed the last of my degree requirements on the day I turned 55 years old, and I strongly believe it's never too late to pursue education. 
There were a number of people who inspired me at MacEwan, but Dr. Lucille Mazo recognized my interest in research, encouraged and supported me, and created a small community of researchers who often met and helped each other. She introduced me to the concept of further, postgraduate education, and did everything she possibly could think of to help me achieve that goal. When I experienced some personal challenges in my final term, Dr. Mazo helped me to meet my academic obligations, and was there for me in a very sad and challenging time. Her dedication to her students and their success goes beyond any expectations.
I am currently working in a seasonal position as a wildfire information officer for Alberta Forestry and Parks. As wildfires were raging across Alberta this spring, and with limited experience, I found myself helping inform communities, municipalities, and oil and gas and forestry sectors.  It is a privilege to be part of the small team of Alberta Wildfire information officers who are that voice for so many Albertans who have been in crisis.
In the future, I intend to further develop my capacity as a wildfire and crisis communicator with research that encompasses increasing wildfire threats due to climate change and how to adapt wildfire management in response. I have many other research interests, including how rising populism, disinformation and democratic threat is facilitated through communications and intend to pursue those as well as I pursue postgraduate studies with a view to eventually be in a position to teach in a post-secondary capacity.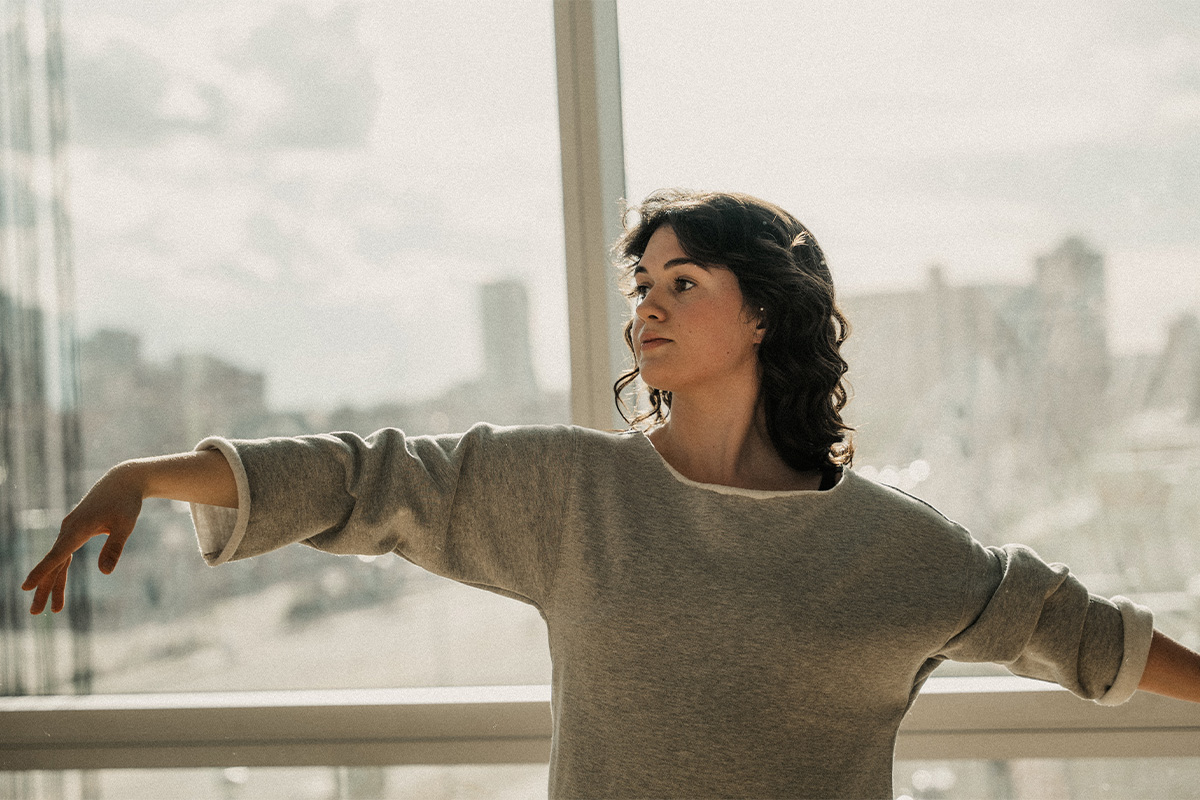 At the age of five, my parents enrolled me in dance, and that decision set my course. Since then, I have been certain that the performing arts are my true calling.
Last school year, I had the privilege of being involved in two main stage musical productions: Spring Awakening and Company. Being on the Triffo Stage, surrounded by my closest friends, was a truly transformative and unforgettable experience that will always hold a special place in my heart.
One individual who truly made a difference during my time at MacEwan was Dawn Sadoway, my program coordinator, professor and mentor. Her dedication and commitment to the Music Theatre Performance program and the growth of each student were truly inspiring. Dawn wholeheartedly believed in my abilities and dreams, providing me with a safe environment to explore, take risks and learn from my mistakes. Without her invaluable guidance and support, I would not be where I am today. 
I have made the decision to pursue my undergraduate degree at MacEwan. Starting this fall, I will be enrolled in the newly introduced Bachelor of Fine Arts program with a major in Music Theatre Performance. Art is valuable and essential in society, and my own life. Moving forward, my aspiration is to foster a vibrant sense of community in Alberta – an environment that provides artists with opportunities to showcase their art, share compelling stories and establish sustainable careers.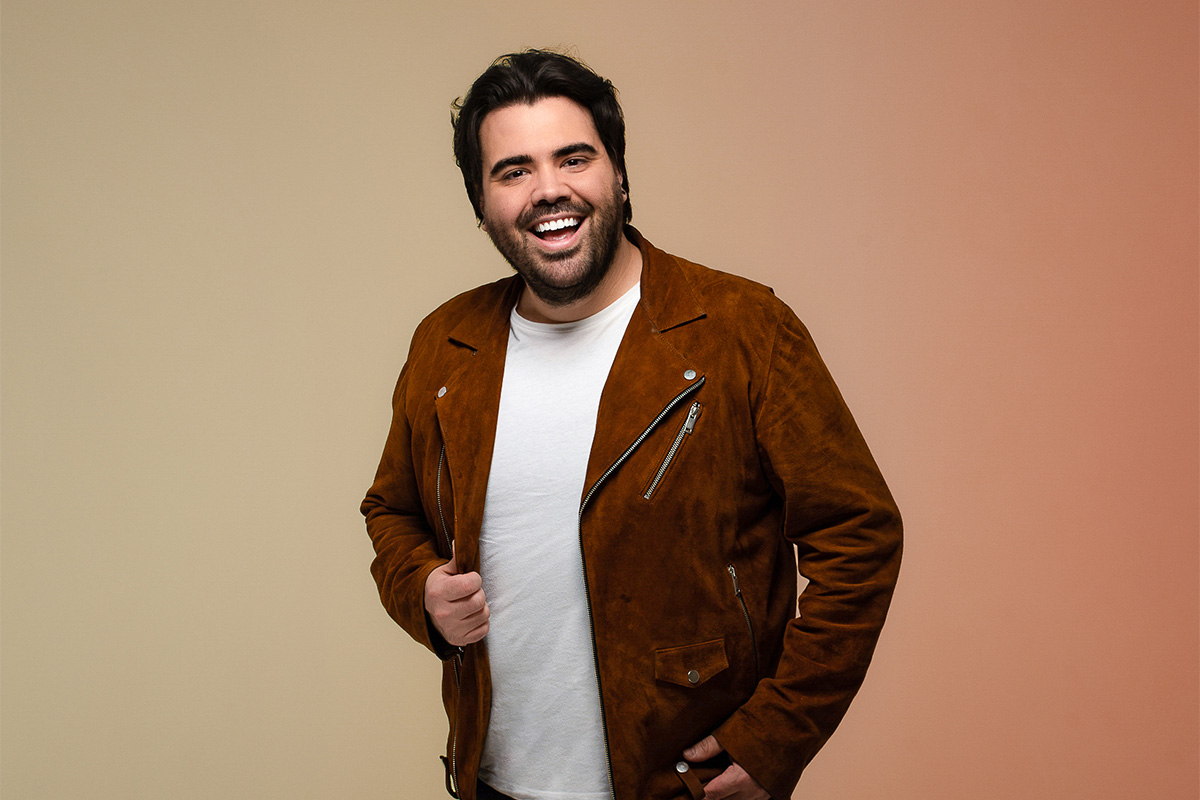 JOE MONIZ
Bachelor of Design
Attending MacEwan University's Bachelor of Design program is my second post-secondary experience. Years before coming here, I earned a diploma in television and radio journalism and established a career in that industry. I devoted over 10 years to radio broadcasting, which took me to many cities across Canada. I was working in an industry that predominantly operates as an audible medium, yet I kept exploring and researching ways in which design and visual communication could be incorporated. That's where I fell in love with design and where I found myself as a want-to-be designer in a non-design world.
My love of design comes from my love of being a storyteller. I have a creative mind driven by curiosity, fascinated by understanding the "why." Enrolling in MacEwan University's Bachelor of Design program allowed me to learn, discover, hone and specialize various design skills.
The most impactful moment in my time at MacEwan was participating and experiencing MacEwan's Design Portfolio Grad Show 2023. I was fortunate to have four design projects I created on display at the John & Maggie Mitchell Art Gallery during the portfolio show. It was an evening full of celebration, creativity and design where years of hard work, determination and vision came together to honour and revel in where we've arrived as designers. It was an inspiring and memorable night that I'll never forget.
I'm aware that learning won't stop even after graduating. I am more than thrilled and welcome additional insights and knowledge to better myself as I enter a career in design, including my involvement in a two-month full-time internship with an Edmonton advertising and creative agency, The Met Agency. I'm excited for an opportunity that allows me to learn firsthand from industry professionals and designers. My goal for the future is to continue to grow as a designer while finding success in my work; to be part of a design team, working alongside like-minded creatives and to continue telling stories through design.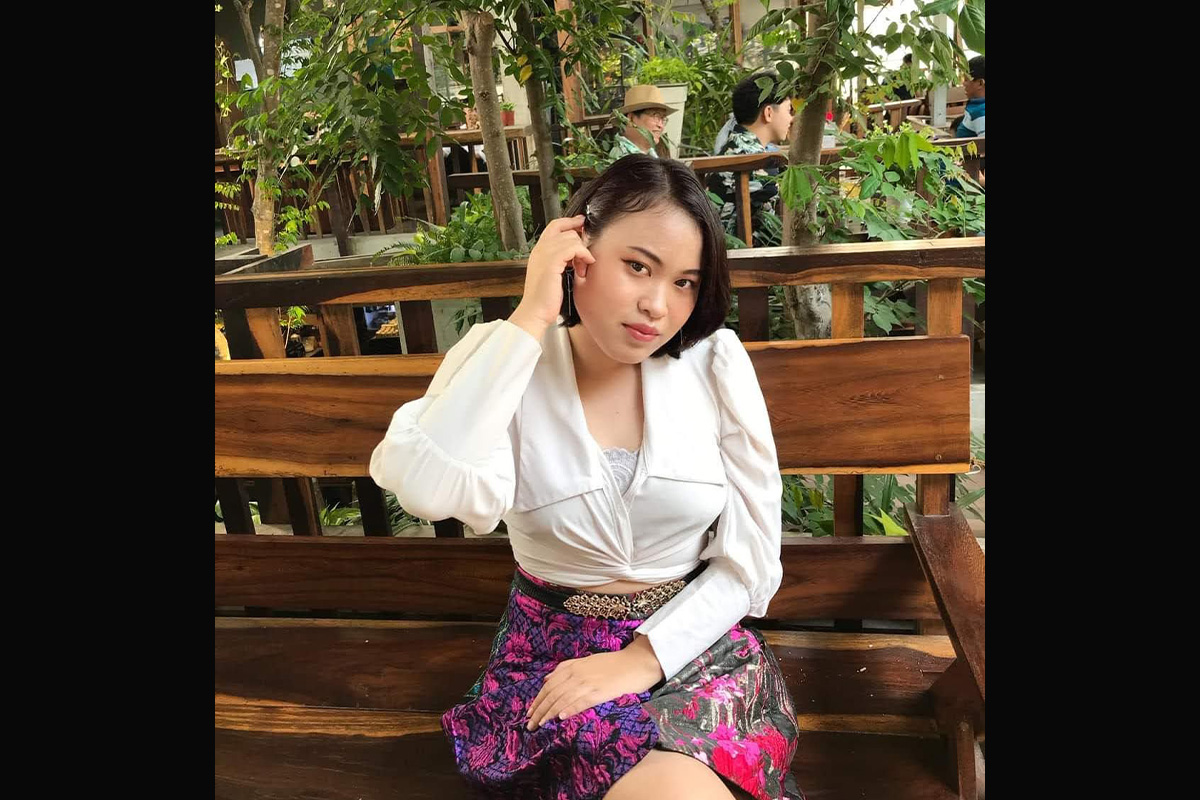 HANH NGUYEN
Studio Arts Diploma
Back in Vietnam, I dreamed of studying and working with art. My first year at MacEwan was also my first time being in a foreign country. I was very reserved and felt out of place due to the big culture shock. I couldn't seem to fit in anywhere, and didn't really go out to explore either so I was extremely lonely and depressed. After finishing my first year, I felt the need to step out of my comfort zone. I became more talkative, changed my attitude about life and tried to be more involved with the people around me at school. Since then, MacEwan has become a place that I can belong to and where I can be myself.
Anna Hawkins taught my Intermedia class in the Fall semester of 2022. Her support gave me the confidence to try things beyond my comfort zone. She has helped me realize many ideas that I thought I could never make into reality.
My time in Studio Art has taught me to appreciate art in general and fine art even more, I also managed to figure out my true passion and what path I should take next. I learned the fundamentals of drawing, painting and ways to use different mediums to express myself and be creative. I consider this my starting point to get to know the art scene.
Now, I'm moving to Calgary to pursue my passion for character design at the Alberta University of the Arts.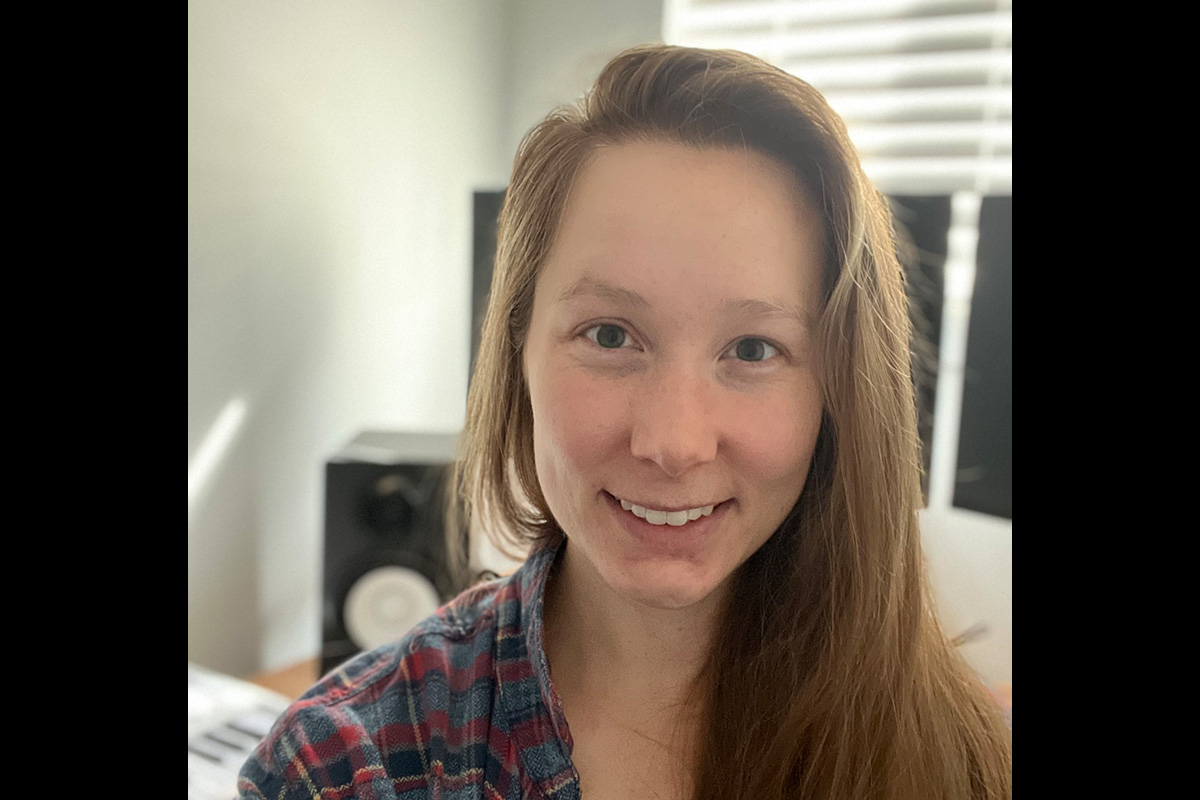 I met my now husband in 2015, we were married in 2016, and in 2017 we were diagnosed with infertility. This made me re-evaluate my career trajectory. I have an education degree from the University of Alberta and I spent a few years teaching, but realized that I actually prefer to be more involved in music. I finished some piano performance milestones as we looked into the various options available to us in terms of future children. This led me down the path of also looking into music degree options and after my audition for MacEwan, I knew I wanted to pursue their unique music degree program.
In the fall of my first semester, I had the opportunity to tour the music recording studios. It was intimidating but also rather magical. And as much as I was fascinated and drawn in by the experience, I thought I for sure would never be able to learn it. But, I thought there was no harm in reaching out to the professors in the recording program to see if I would be able to be competent at the program starting from ground zero as a mature student. Amazingly, they all said yes, so I applied, got in, and I've even won the Dean's Medal for Academic Achievement. 
The most memorable project I worked on was my friend Cynthia Hamar's album that she recorded during our time at MacEwan. It was a chance to be a part of a recording and production project from start to finish, and there were a lot of faculty that participated in the project as well. I'd advise students to build relationships with the people (fellow students and professors) around you. I know that this network of people will continue to impact me in the future, but it also opened doors and opportunities that weren't necessarily advertised. I honestly think that a university degree is less about the academia and more about the access to the current and future professionals in your field. 
My husband and I ended up doing a round of IVF which resulted in me being pregnant throughout my fourth year and giving birth to my son on April 27, just a week after my last exam. Getting my music degree through tough personal decisions, through COVID, through a difficult pregnancy, and all the while being able to succeed and find ways to persevere was an absolute pleasure. I'll always look fondly back on this time.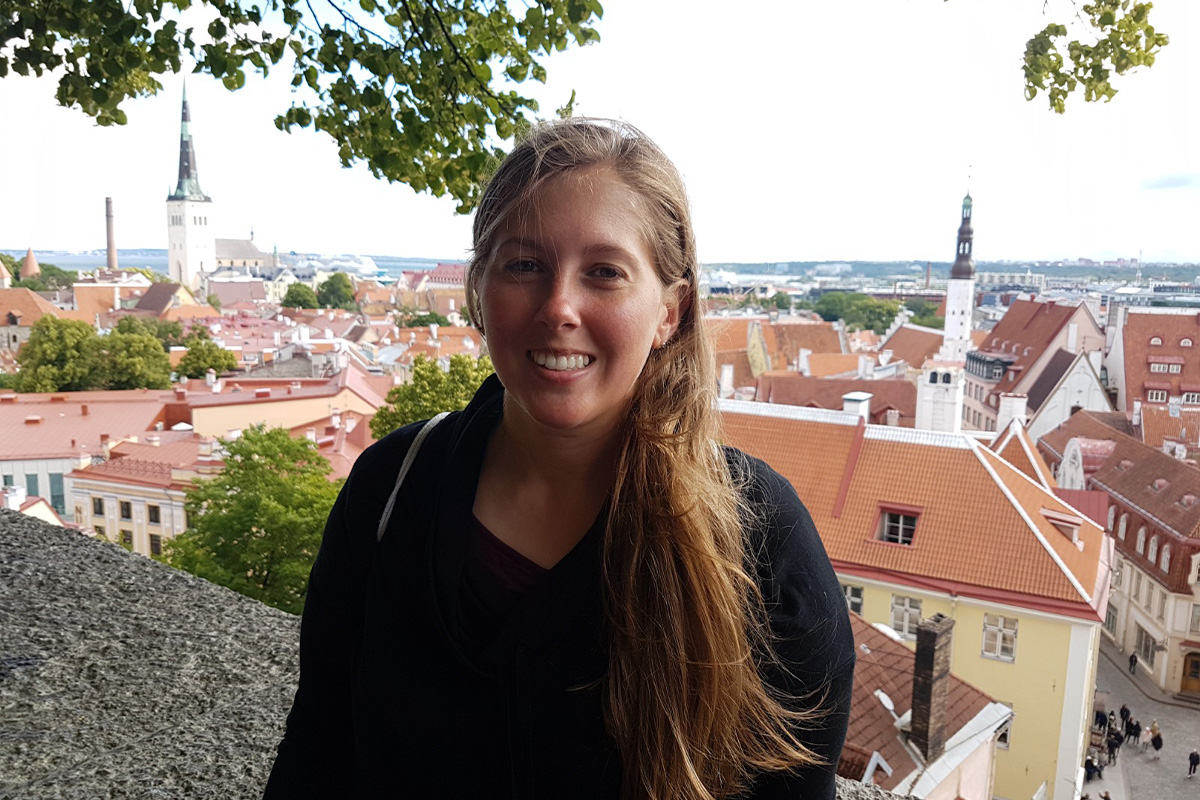 A few years ago, I never would have pictured myself graduating from university. After high school, I decided to take a gap year, which quickly turned into 10, to travel and work jobs that would allow me to do so. However, when COVID hit, and travel came to a halt, I found myself looking for a new career path.
I had always loved the theatre from the audience's perspective, and more than once found myself trying to peek backstage during a show to see how the magic happened. So choosing to study Theatre Production was a no-brainer for me. Getting to build amazing sets and props, and bringing these musicals to life has been an incredible experience.
Despite how amazing working in the theatre has been, there's no denying that the work the cast and crew put into the shows was long and hard. There were many ups and downs during my time here at MacEwan, and the last two years would not have been possible without a few key people in my life.
I would like to thank my partner, Leidy, who inspires me every day to be my best self. It was she who encouraged me to pursue my studies in the first place, and she has offered me endless support throughout this entire journey. I'd also like to thank my friends that I've made here at MacEwan. Without them, classes would not have been nearly as entertaining (and admittedly not as loud either), and these two years in Edmonton would not have been anywhere near as enjoyable as they were.
If I had any advice for people starting their experience at MacEwan, it would be to surround yourself with people who not only support and encourage you, but with people with whom you can just unwind and have fun. Your studies are important, but the time you spend outside of the classroom is what really makes your time here memorable.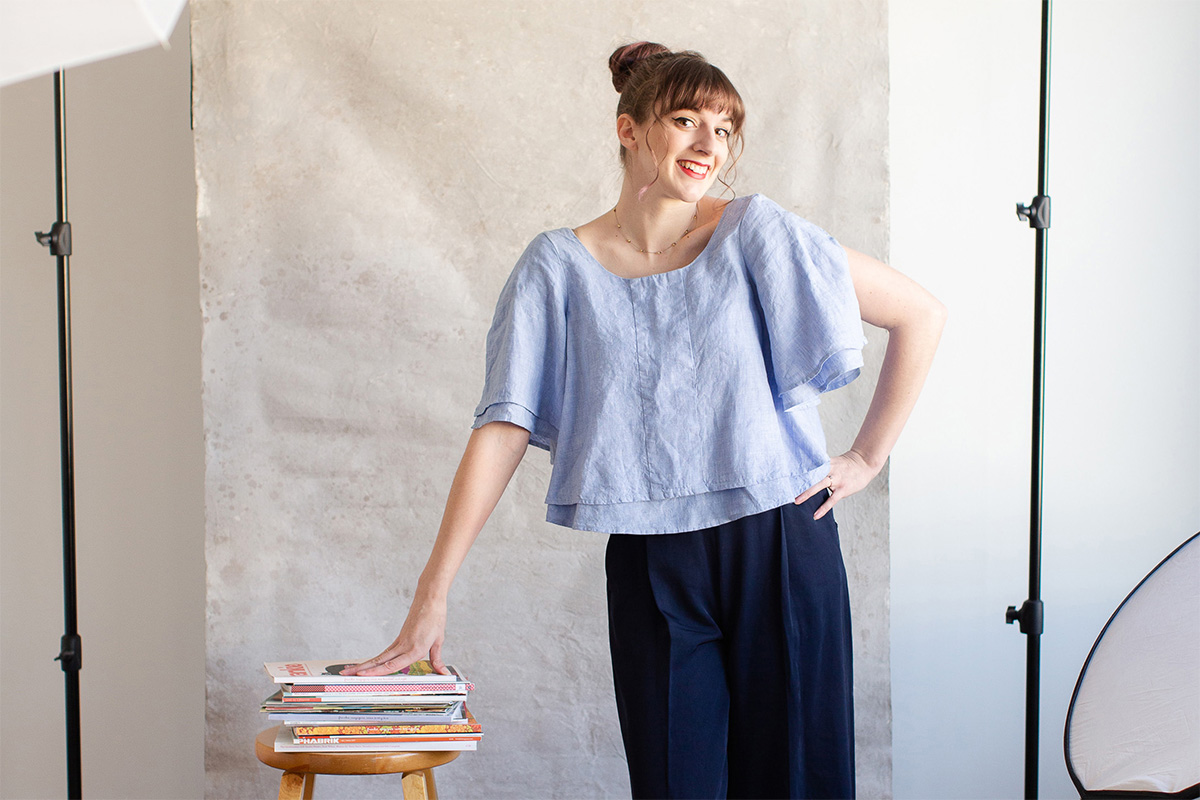 KATRYNA YASINSKI
Bachelor of Design
After having a career in marketing for small businesses, I realized that the parts of the job I enjoyed the most were related to the more creative side of things. When I was laid off at the start of the pandemic, I decided to use that opportunity to go back to school with a focus on visual design to get my skills where they needed to be. The MacEwan program seemed like a great fit and is known for design in the city and was the best option for me.
What I love most about design is how every day presents a new challenge to solve. Each project has its own goals which bring novelty and an array of chances to stretch your creative skills.
It was very interesting being a part of the online cohort of students where most of my program was taken online. One of my classmates created a Discord group for our design courses and it became such a wonderful place to connect when we were apart. I also had great experiences in my typography courses where we had a chance to bring real design work to life. We had a contest to design album covers for some of the artists signed to Bent River Records, and I had a chance to write and illustrate a children's book that I self published!
I recently just got a job as an in-house graphic designer for a company here in Edmonton. I will be working with the creative team on advertisements, packaging designs and photo shoots.
Let's stay in touch!
Sign up to receive our weekly MacEwan University e-newsletter straight to your inbox.