We'll make sure you have clear instructions and know what to expect on move-in day. As well, we will email you about important dates, deadlines and other details.
One month before move-in day
About one month before move-in day—or later for late applicants—you will receive a welcome package with some important details. It will include:
Length of time you will be living in residence
Move-in date and time
Suite information
Fee deadlines and payment information
Information on what to do on move-in day
Orientation Week schedule
A few weeks before move-in day
In your welcome package, we ask you to prepare some documents and details in advance of your move-in date.
Accidents happen, but residence is not responsible for protecting your belongings against loss, theft or damage. You need to purchase insurance to protect your belongings.
To make the process easier, MacEwan Residence has partnered with Marsh Insurance to offer insurance to residents for $75 for the Fall term and $40 for the Winter Term. When you accept your residence offer, you will be automatically enrolled in this insurance program.
If you wish to opt out of this insurance program, you have until September 15 for the Fall term and January 15 for the Winter term to do that. More information on opting out is in your Welcome Package.
Consent to disclose personal information (optional)
Your written consent is required for MacEwan University staff to provide parents, guardians, other family members or friends with information about your residence application, suite assignment, fees or related information. This includes all aspects of your residence experience, including, but not limited to, difficulties with roommates, discipline issues, account information and even confirming or denying if you're living in residence. 
For example, if friends or family members don't know or forget your suite number, phone number, mailing address or other contact details and request this information from residence staff, we cannot provide it unless you've provided written consent through the FOIP consent form.
If you would like residence staff to be able to respond to questions from friends or family members, complete the Freedom of Information and Protection of Privacy (FOIP) consent form.
Confirmation of enrolment (non-MacEwan students only)
If you are attending a post-secondary institution other than MacEwan University, we require a verification of enrolment document to confirm your status as a student for the term or a range of terms that you are living in residence.
A verification of enrolment or confirmation of enrolment is an official document obtained by making a request to the Registrar or registration services department of your institution.
Avoid an extra line-up on move-in day. If you submit your ID photo before move-in day, your MacEwan University Residence access card will be ready for you when you pick up your keys.
Review the submission guidelines before you send your photo to residence@macewan.ca.
Planning to arrive early?
Let us know by filling out the early request form that is included in your Welcome Package. Supporting documentation must be provided explaining the reason for the request.
A few days before
We'll email your:
If you are a student at MacEwan or any other post-secondary institution, you can access Wi-Fi by logging in to the Eduroam network with your student network ID and password. To log in to the Eduroam network, add @macewan.ca (NOT @mymacewan.ca), @nait.ca, @ualberta.ca to your network ID.
If you are not a student of one of these institutions, please see the front desk for your Wi-Fi information.
Your mailing address is also included in the room assignment package that you receive on move-in day. It looks like this:
Your Name
Suite Number (to be determined)
MacEwan Residence
11050 – 104 AVE NW
EDMONTON AB  T5K 2Y9
We encourage you to provide a permanent home address when dealing with government agencies and/or places of employment. If you choose to provide your Residence address to any such agencies, Residence Services can't hold and won't forward mail (like employment T4s, study permits, travel visas and passports) or parcels after your departure.
On move-in day
You will receive the following:
Room key and residence ID
When you arrive, you can get a photo taken for your Residence ID, if you haven't already done so. Keep your room keys and Residence ID on you at all times (but don't keep them together on the same key ring).
Your ID allows you to access floors 2 through 13 and to enter the building between 7 p.m and 7 a.m.
You must complete your Suite Condition Report before you set up your room and within 48 hours of checking in.
Describe any concerns you have about the state of the room; this information will be compared against the state of your suite once you have moved out.
Submit the Suite Condition Report through the Residence Portal. If you don't complete the report within 48 hours of checking in, you will be held responsible for any damages found in your suite when you move out.
If you need help filling out the report, contact the front desk.
Packing and unpacking
We recommend that you bring the following items when you move in. 
Bathroom
Bath and hand towels
Bathrobe
Bath mat
Personal toiletries
Plunger
Toilet paper
Bedroom
Alarm clock (with battery backup)
Area rug
Batteries
Blankets or comforter
Clothes hangers
Desk lamp (not halogen)
Extension cord
Fan
Headphones
Linens:
Full/double bed: 54 inches x 80 inches (Queen fitted sheets work well!)
Pillows
Posters or other materials to decorate your suite
Kitchen
Coffee maker
Cooking utensils
Cutlery
Dish cloths
Dish soap
Drying rack
Food storage containers 
Garbage and recycling bags 
Kettle 
Microwave safe dishes 
Pots and pans
Toaster or toaster oven
Recreation
Camera
Games
Playing cards
Photo album
Photos
Recreational equipment (like sneakers, ice skates)
Household supplies
Broom
Cleaning supplies
Flashlight
Laundry basket and detergent
Mop and bucket
Slippers
Storage is limited, so bring only what is necessary.
Please do not bring the following items when you move in. 
Candles
Pets
Dishwasher
Furniture (a chair or small table is okay)
Halogen lamps
Hydroponic lights
Incense
Larger TVs (not over 40")
Wireless printers
Mini decorative lights (LED lights are okay)
Mini fridge
A limited number of bins are available on move-in day to transfer your belongings from your vehicle to your suite. They are available for one hour at a time.
Shipping items for move-in day
You can have packages, trunks or boxes shipped to residence before you move in; however, these items should arrive only after you've moved in so you can claim them at the front desk. Residence ID will be required.
Contact us if you have any questions about what to bring or what not to bring.
Where to park on move-in day
Parking is available in the west and east sides of Surface Lot S on move-in day. Please request a vehicle dash pass from the Front Desk.
Parking map
Home suite home
Whether you're moving here from outside Edmonton or across the river, leaving home is a big step. Darius, who lived in residence for three years, remembers feeling nervous on his move-in day. We asked him to share his insights for a smooth transition into residence living.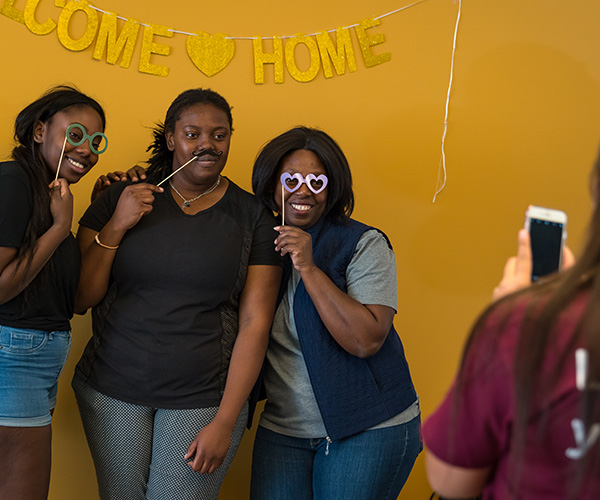 Smooth transition