ADMISSIONS
Transfer credit assessment & reports
If you have attended another post-secondary institution, courses you successfully completed at that institution may be considered for transfer credit towards a MacEwan University credential.
Transfer credit is assessed after an offer of admission has been made. In all cases, your first step is to apply to the program.
Transfer credit assessment
In most cases, transfer credit assessment is based on where you completed your post-secondary courses.
Transcripts from post-secondary institutions in Canada or the United States
Unless you are enrolled in Open Studies, transfer credit is assessed automatically when you provide transcripts from post-secondary institutions in Canada and the United States.
Current transfer credit articulations with ACAT-participating post-secondary institutions can be found on the Transfer Alberta website.
Transcripts from post-secondary institutions outside Canada or the United States
Coursework from a post-secondary institution outside of Canada or the United States is not assessed automatically. You must initiate the transfer credit review process.
Email the Transfer Credit Unit with a request to open your transfer credit module in myStudentSystem: TransferUnit@macewan.ca
Submit a transfer credit articulation request through myStudentSystem. You will require the course code/number, name, credit value and term of completion for each course you would like assessed.
transfer credit articulation request process
Coursework completed at MacEwan University
Please contact an academic advisor in your faculty or school to have prior coursework from MacEwan University applied to your new program.
Transfer credit for students in Open Studies will be assessed only on request and to fulfill prerequisite requirements.
If you have met a prerequisite by completing a course at another post-secondary institution, email the Transfer and Articulation Unit after you apply. In your email, please include your Student ID and a list of course(s) for which you are seeking transfer credit. Please ensure that your most recent official transcript has been forwarded to MacEwan University for evaluation.
In cases where a transfer credit articulation does not exist, it is your responsibility to obtain and submit the relevant course syllabi for a transfer credit articulation.
Transfer and Articulation Unit
Office of the University Registrar
transferunit@macewan.ca
Transfer credit report
After your transcripts have been evaluated, a report of transfer credit assessment results is added to your Student Center in myStudentSystem. It is your responsibility to review the transfer credit granted and to understand how it fits with your program of study.
Access your transfer credit report online
The results of your transfer credit assessment will be posted in myStudentSystem.
Log in to myPortal.MacEwan.ca
Launch myStudentSystem from the Quick Links menu.
From your student homepage, select Academic Records.
Click on the View Transfer Credit Report menu item.
Understand your report and how it applies to your program
A separate report is created for each institution you attended.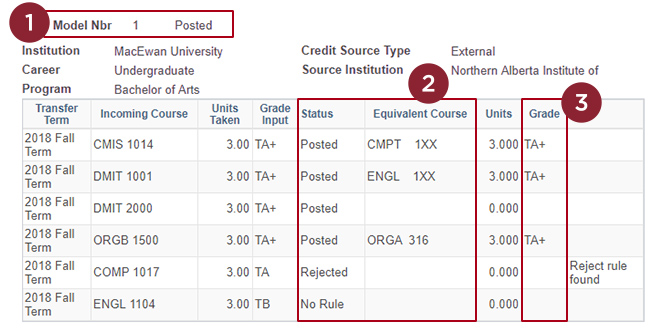 Assessment status
You will see one of the following:
SUBMITTED—Course information has been entered but there are no transfer decisions ready for processing to your record.
COMPLETED—Transfer decisions have been processed but cannot be posted to your record until you accept your offer of admission and pay the admission confirmation deposit.
POSTED—Transfer credit decisions have been posted to your record. Your results are ready.
Course results
For each individual course evaluated for transfer credit, you will see one of the following:
POSTED—Transfer credit has been awarded.
REJECTED—Course is ineligible for transfer credit award.
NO RULE—No articulated transfer decision in our system.
The equivalent course at MacEwan University will be specified (e.g. ORGA 316) or unspecified (e.g. CMPT 1xx). A program advisor can provide you with more information on how unspecified transfer awards can be used to fulfill your program requirements.
Grade
The letter grade of the incoming course will be prefaced with a "T" (i.e. TA+, TB, TC-, etc.). Transfer credit grades are not used in ANY grade point average (GPA) calculation. The official MacEwan University transcript will note only the total number of credits transferred per institution.
Specific transfer credit awards are subject to the requirements and regulations of the admitting program and may vary from the total credit awarded by MacEwan University. Transfer credit is subject to the Inter-institutional Transferability (C2030) and External Course Taking (C2035) policies, and the university's academic residency requirements.
Initiate transfer credit evaluation for "No Rule" courses (if applicable)
If your coursework was not previously assessed for transfer credit by MacEwan University, your results statement will include a status of "No Rule." To have these courses assessed for transfer credit, you must initiate the transfer credit evaluation by submitting a Transfer Credit Articulation Request form and other relevant documents.
Consult an advisor in your program
Review the assessment with an academic advisor in your faculty or school to understand how it meets requirements. Some programs schedule specific program planning events for new students. Students with transfer credit are strongly encouraged to attend for both information and advice.
Bring any discrepancies in your transfer credit assessment to the attention of the Transfer Unit in the Office of the University Registrar. Send an email from your MacEwan University student email account and include your student ID number.