EXECUTIVE LEADERSHIP
PROVOST & VICE-PRESIDENT, ACADEMIC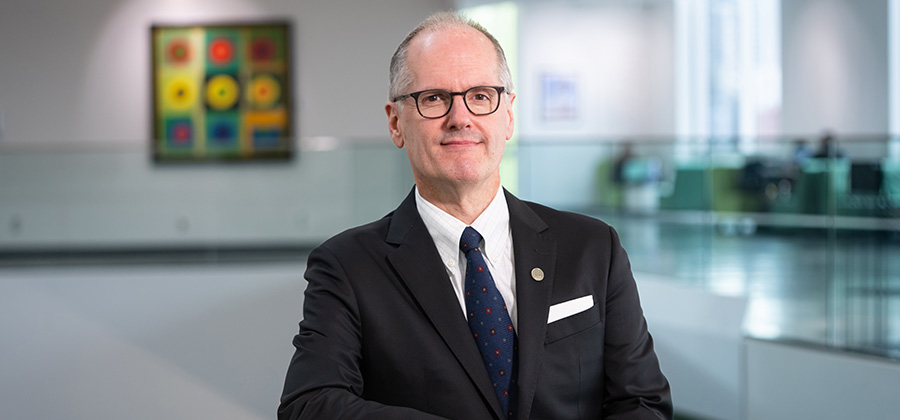 The Provost and Vice-President, Academic, Dr. Craig Monk, is responsible for promoting a culture of academic excellence at MacEwan University and for maintaining the university's reputation as a student-focused institution.
The provost and vice-president, academic oversees Academic Affairs, which facilitates and supports the thematic values of the university:
The primacy of the learner and student engagement;
The central importance of good teaching and its connection to interactive relationships within the learning experiences; and,
The value of dynamic links to the larger social, economic and professional realities.
Within a shared governance framework, Academic Affairs is responsible for academic program development and delivery, scholarly activity, academic policies, enrolment management, educational technology, the Centre for Teaching and Learning and a number of supporting functions to support learner success and faculty engagement. In addition, Academic Affairs is accountable for the institutional and educational technology mandate at MacEwan as well as the requirements of Institutional Research.
About Dr. Monk
Dr. Craig Monk has been provost and vice-president, academic at MacEwan University since May 2018. He holds a concurrent appointment as professor in the Department of English, and he served a full term as dean of MacEwan's Faculty of Arts and Science from 2013 to 2018.
In his current administrative role, he serves as the principal academic officer for MacEwan and leads a talented and dedicated team of deans and academic associate vice-presidents in the shared pursuit of an exemplary undergraduate experience for students. He has appointed or reappointed all ten members of this leadership team, bringing seven new leaders to MacEwan from institutions across Canada. Dr. Monk is committed to viewpoint diversity in the academy and is proud of the further dedication our institution has made to tenure and to academic freedom in our Collective Agreement as we established ourselves as an "undergraduate university" under Alberta's Post-Secondary Learning Act. He wrote and received unanimous approval across campus for MacEwan's "Statement on Free Expression," the first such original statement adopted in the province, and he remains the sponsor for our "Free Expression on Campus" policy.
He is dedicated to helping grow an institution that both reflects and engages the community it serves. Dr. Monk participated proudly in the development of Teaching Greatness: Strategic Vision 2030, a growth framework for MacEwan that honours our place in O-day'min. Over the past decade, he has been involved directly in the recruitment of hundreds of new faculty colleagues across every academic department at MacEwan, and he oversaw the growth of additional teaching and research support for the academy. He also implemented a new structure for student services, including a hub-and-spoke advising model, as we seek to expand our student numbers beyond 20,000. He completed the university's first mandate renewal in a decade and helped establish our first General Faculties Council, the foundation for our collegial governance, and served as its first chair during twelve months of transition. He works now with the president by co-chairing, with faculty colleagues, council standing committees focused, amongst other things, on quality assurance.
Born in St. John's, Newfoundland, Dr. Monk received a Bachelor of Arts (Honours) from Memorial University, an M.A. from Western University, and M.St. and D.Phil. degrees from Oxford University, where he held a Rothermere Fellowship at Linacre College. He was awarded further research fellowships from Indiana University, the University of Texas and Yale University. His research, dealing with topics in American literature, autobiography, modernism and publishing history, has twice been funded by the Social Sciences and Humanities Research Council of Canada. He is author of Writing the Lost Generation: Expatriate Autobiography and American Modernism (University of Iowa Press) and he completed a five-year term as co-editor of the journal of record in his field of scholarly expertise, American Periodicals: A Journal of History, Criticism, and Bibliography (Ohio State University Press).
He was previously professor of English at the University of Lethbridge, where he was appointed first as assistant dean (Students) and, then, as associate dean in its Faculty of Arts and Science. He served as the founding chair of the steering committee of its Centre for the Advancement of Excellence in Teaching and Learning and as founding coordinator of its Academic Writing Program. He received their Distinguished Teaching Award in 2007.
Associate vice-presidents
Chandelle Rimmer, Interim Associate Vice-President, Students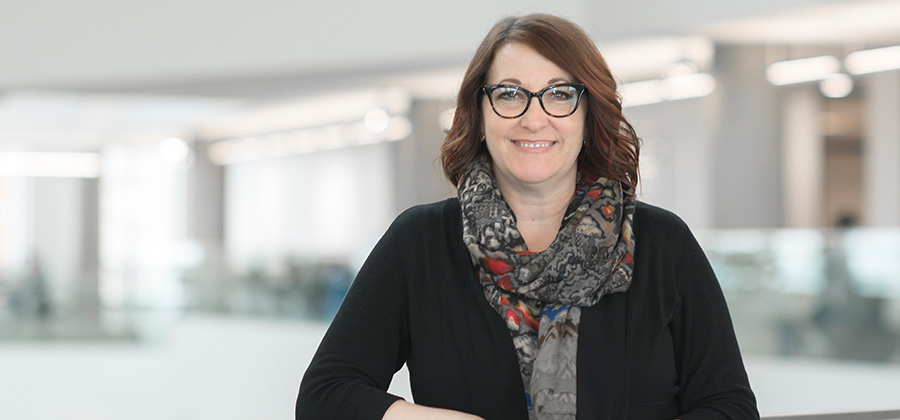 Chandelle Rimmer
Interim Associate Vice-President, Students
Dr. Craig Kuziemsky, Associate Vice-President, Research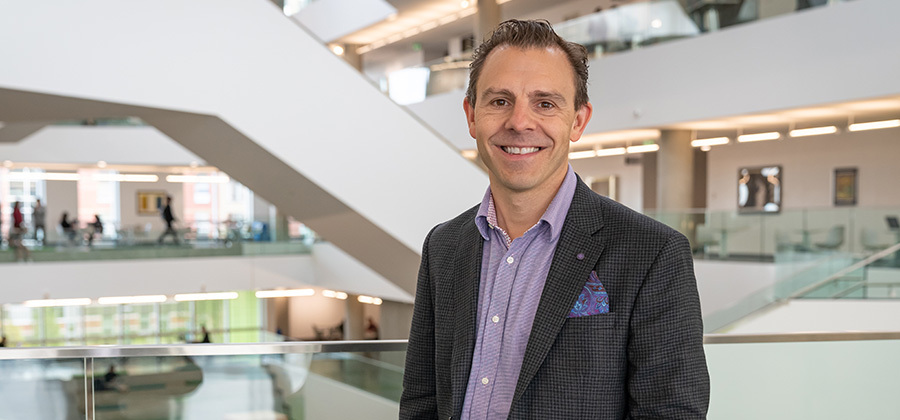 Dr. Craig Kuziemsky
Associate Vice-President, Research
Professor, Department of Decision Sciences
Dr. Craig Kuziemsky was appointed associate vice-president, research, at MacEwan University on September 1, 2019. Dr. Kuziemsky also holds the rank of professor in the School of Business. He graduated from the University of Alberta with a B.Sc. in Medical Laboratory Science and a Bachelor of Commerce with Distinction. He received his doctoral degree in Health Information Science from the University of Victoria in 2006.
Prior to joining MacEwan, Craig was a full professor and University Research Chair in Healthcare Innovation in the Telfer School of Management at the University of Ottawa. He also served as director of the M.Sc. in Health Systems program (2010-16) and the Master of Health Administration Program (2017-19). Craig was also awarded the University of Ottawa 2013 Young Researcher of the Year Award in the Social Sciences and Humanities. Craig's research has developed innovative approaches to model collaborative health care delivery to support the design of information and communication technology (ICT) to support different contexts of collaboration. His studies of collaboration have used approaches such as complexity theory to understand the nature of collaborative interactions in different healthcare settings such as clinical health care and public health for disaster management.
As associate vice-president, research, Craig provides leadership in developing and nurturing the research enterprise at MacEwan. Internally, he is responsible for the overall leadership and management of the Office of Research Services and its responsibilities, including developing and interpreting research policy and protocols, grant administration, facilitating collaboration across MacEwan's various faculties and promoting MacEwan's research excellence and impact. Externally, Craig engages with the community, industry partners, different levels of government, granting councils and other research institutions and universities to create a dynamic research atmosphere for MacEwan's faculty, staff and students. Craig also provides executive leadership for MacEwan International and Careers and Experience.
Dr. David McLaughlin, Associate Vice-President, Planning and Analysis, and Registrar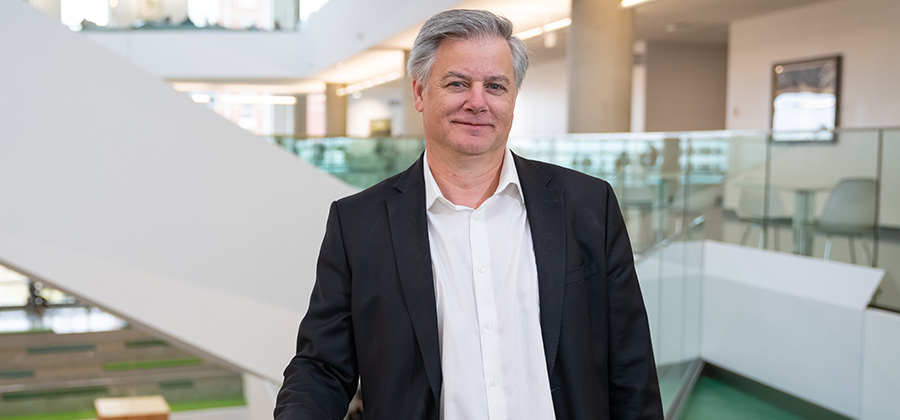 Dr. David McLaughlin
Associate Vice-President, Planning & Analysis, and Registrar
Associate Professor, Department of Mathematics and Statistics
Dr. David McLaughlin was appointed associate vice-president (AVP), planning & analysis and registrar on August 15, 2018. As the registrar, David oversees the Office of the University Registrar, the formal repository of student records at MacEwan and students' leading point of contact for admissions, registration, student financial aid and convocation. Through the Office of Institutional Analysis and Planning, the AVP, planning & analysis leads the Integrated Strategic Planning activities at MacEwan; coordinates analyses for decision making, program planning and program review; and liaises with various units in the Ministry of Advanced Education and with Campus Alberta Quality Council.
David joined MacEwan in July 1998 as a mathematics instructor, following seven years in the British Columbia post-secondary system. David has a B.Sc. in mathematics (Honours) from Dalhousie University and an M.Sc. and PhD in mathematics from the University of Alberta. He is an associate professor in mathematics in the Faculty of Arts and Science.
David has held numerous leadership roles at MacEwan, including several firsts (research officer, chair of the Department of Mathematics and Statistics, vice-chair of Academic Governance Council, vice-chair of Faculty of Arts and Science Faculty Council), as well as acting associate dean of science, acting associate vice-president, academic research and, from 2013–2018, executive director of Institutional Analysis and Planning. David's numerous service activities at MacEwan have contributed to MacEwan's evolution into a comprehensive student-centred university. He has a passion for mathematics education and continues to volunteer time in the Math/Stats Learning Centre.
Office of the Provost contacts