GRADUATION & CONVOCATION
Convocation Ceremony
Celebrate your accomplishments with friends, family, faculty and staff at convocation. Convocation is a ticketed event; all graduates and guests need a ticket to attend. We host a live webcast of the ceremony so that friends and family from out of town can watch you walk across the stage.
Convocation is held in June and November each year. The schedule is posted a few weeks ahead of time.
Spring 2024 convocation ceremonies: June 18, 19 and 20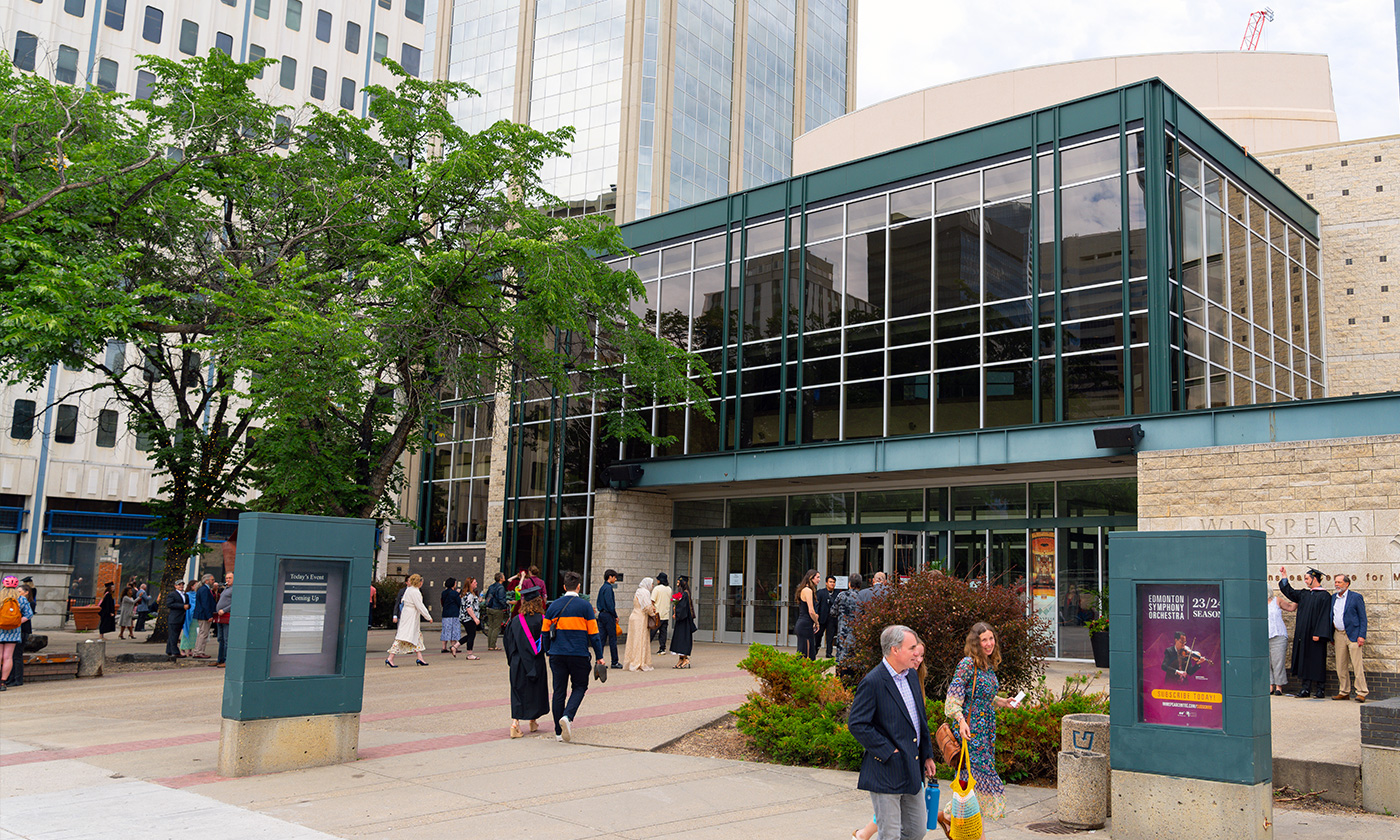 Convocation at Winspear Centre
Convocation will be held at Edmonton's beautiful Winspear Centre in the heart of downtown, just off Sir Winston Churchill Square. Visit the Winspear Centre website for directions and parking information.
Attend the ceremony
Ensure you and your guests have tickets
Graduates and their guests must have a ticket to enter the Winspear Centre for the convocation ceremony. If you have RSVP'd to attend Convocation, your ticket package will be available to pick up at the Office of the University Registrar prior to the ceremony.
Arrive early at the Winspear Centre
Plan on arriving at least one hour prior to your ceremony. Allow extra travel time due to downtown traffic and construction.
We recommend taking the LRT to Churchill Station. Visit winspearcentre.com for more information.
Pick up your regalia and name card
Pick up your regalia and name card at the coat check. Your name card is required to cross the stage. 
Indigenous students are invited to wear an Indigenous stole, which can be requested when you pick up your gown.
You are encouraged to leave coats or personal items with your guests or take them to your seat. You cannot carry personal items when you cross the stage. MacEwan University and the Winspear Centre are not liable for any loss or damage to items left unattended.
Once gowned, you will be directed to take your assigned seat. Hold onto your name card throughout the ceremony. This will be used to announce your name as you cross the stage.
Drop off your gown at the coat check after the ceremony. You may keep your cap and tassel as a souvenir.
Graduation attire
Learn about the colours and traditions associated with your cap, gown, hood and stole.

Academic Regalia
Ceremony webcast
Friends and family who can't make it to the ceremony can watch you cross the stage in real time.
Watch the ceremony