FUTURE STUDENTS
University life
We invite you to make the most of your university experience by trying new activities, expanding your worldview and building your network of friends, mentors and community partners. Along the way, you'll discover that there is more to being a student than classroom learning. 
Immerse yourself fully in university life when you cheer on the mighty Griffins, participate in a Black History Month drumming demonstration, travel abroad with the Model UN student club or volunteer for a cause you're passionate about.
Cheer on the Griffins!
Pick up your free student tickets to all home games and cheer on the MacEwan University sports teams! Stay updated with the latest news, scores and schedules.
GRIFFNATION
All of the experiences I've had during university have helped me be more confident in myself and in my work.
CASEY POLLON, DESIGN STUDIES
What's on?
There's so much happening at MacEwan University. Visiting speakers, student presentations, Griffins games, theatre and musical performances, art exhibits, SAMU events—and so much more.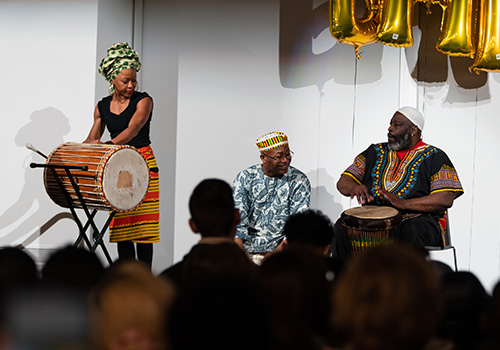 Black History Month
In February each year, we celebrate Black Canadians' contributions to Canada through exhibitions and performances, discussions and storytelling, conversation and cultural narratives.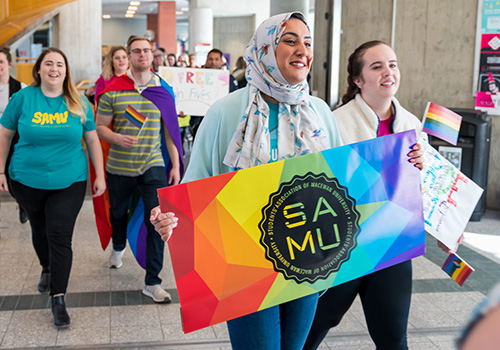 Pride Week
Every year in March, we celebrate the diversity of LGBTQ2S+ communities and allies during Pride Week. Events range from workshops and panels to drag shows and a cross-campus parade!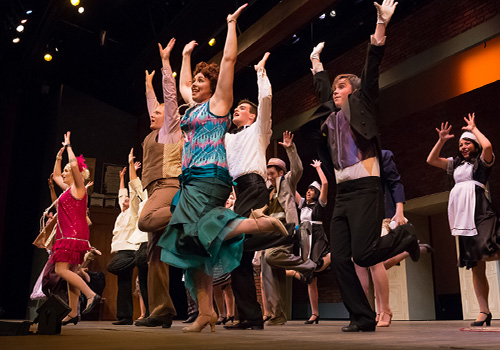 Take in a show 
Musical theatre, big band concerts, percussion ensembles and so much more. Our musical theatre and music performance students will dazzle you with their talent, energy and passion. 
Join a club
Are you a lover of plants, movies or politics? Do you have an interest in history, acupuncture or the environment? The Students' Association of MacEwan University (SAMU) is home to a wide range of student groups. Find out what's on tap—and if you don't see what you like, you can always start a student group of your own.
SAMU Student Groups
Lend a hand
Interested in volunteering, but not sure where to start? We can help you find an event to support or a group on campus that shares your passion and needs a helping hand.
Volunteer at MacEwan
Get involved, get credit
Many of the extracurricular activities that you participate in at MacEwan University can be recognized on your co-curricular record (CCR). The CCR is an official document that lists your involvement with non-credit clubs, campaigns and committees. This document boosts your resumé, letting potential employers know a bit more about you.
Take the next step
Choose the program that's right for you, check admission requirements, complete the application process and get ready for your first year of university. We are here to support you every step of the way.